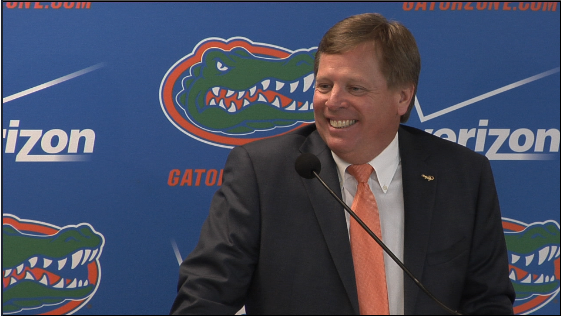 Early Saturday morning, Gator Nation got its first look at new head football coach Jim McElwain. McElwain was at the podium for over half an hour fielding a variety of questions, ranging from his offensive philosophy to what he learned from Evel Knievel (a fellow Montana native).
But the new Florida coach said he hasn't reached a decision on what to do with Florida's old assistant coaches, and we didn't learn much about what Florida's offense will look like, with McElwain saying he's just going to build a system around the personnel Florida has.
"I'm that dog they dropped off down at the Humane Society that has a bit of every breed in it. And whatever the situation is you try to bring out that breed that helps success. And so when we get here it's about the evaluation of the talent that's here, and really accentuating what they do well; adapt to that, and then recruit to some areas that maybe we need to get to as we form who we are and an identity. Obviously we believe in balance, but some games based on what the defense is taking away you need to have the versatility to do the other thing. That's where it evolves." McElwain said.
Dogs were the dominant theme of the press conference: McElwain said he would call his offense the Humane Society, and the new Gator coach joked that he believed Florida could win with his dog Clara-A-Belle at quarterback (no comment on the type of offense Clara-A-Belle would thrive in).
McElwain also noted it would take dogged determination on the recruiting trail to get the Gators back to where they want to be, and that will play a role in determine coaching changes as well.
"We'll hit the road next week, and get to as many places as possible from a recruiting standpoint. Cause it's one of those things now recruit daily or die now, and we've got to make sure we secure a great class. There are some great commitments right now, and some guys that are waiting to see what's going to happen and what's going on, and that's first and foremost is go out and do that. As we kind of look through it, we'll get a chance to visit everybody in the organization and it isn't just the coaches. It's lost sometimes, it isn't just the coaches, it's everything that touches the desk of the head football coach. And so that will be evaluated moving forward as we build the infrastructure that is success," McElwain said.
Now Florida gets ready for a bowl game where McElwain will not be coaching (he suggested a tailgate with outgoing UF President Bernie Machen), and so McElwain will focus solely on recruiting, and getting the Gators back to the top of college football. When asked about the intensity of Florida's program compared to Colorado State, McElwain smiled.
"Here's the beauty. Pressure is awesome. That's why we do this. The one thing I love is pressure. I never look at it as feeling the pressure, but I always look at it as applying the pressure. I'm excited about that part of it. I mean if there's no pressure why wake up in the morning. That's really what drives me anyway."
Check out the audio version of the quotes below: