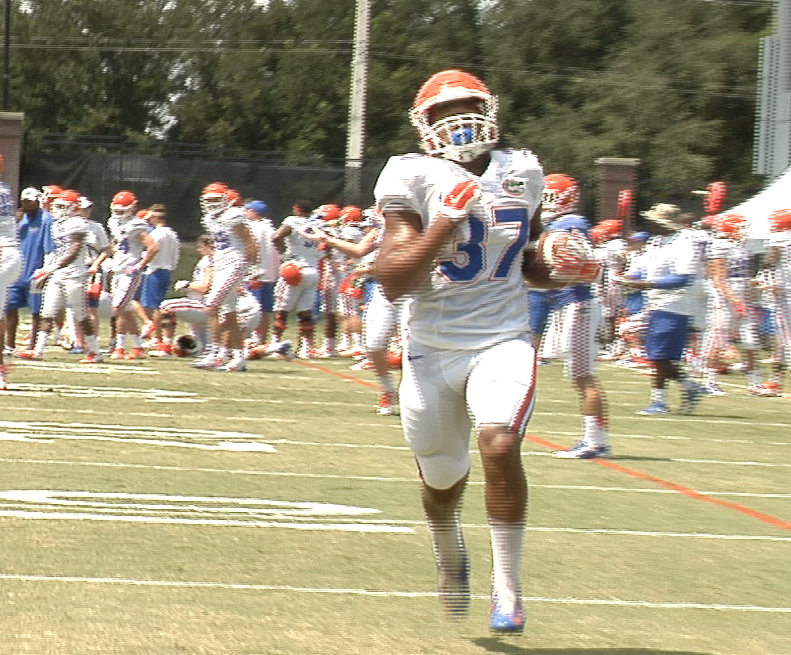 The Florida Gator football team practiced for the first time with full pads on Monday afternoon at the UF Dizney Lacrosse Stadium. Per NCAA rules, teams cannot practice with pads until they reach their fifth practice.
"I was really pleased. You didn't see anybody back down," said Florida head coach Jim McElwain. "I think our young guys are doing a heck of a job, especially up front."
According to McElwain, a few Gators had be sidelined due to injury by the end of Monday's practice. Redshirt freshman offensive lineman Tavaris Dorsey went down with an apparent leg injury. Sophomore wide receiver C.J. Worton got hurt as well. The status of both players will be monitored in the upcoming days.
"(Dorsey) went down – something with the leg. We'll find out how it was but he wasn't able to finish practice. C.J. Worton – same deal, not sure what it is but we'll get it looked at," McElwain said.
Additionally, redshirt junior defensive lineman Alex McCalister was held out of practice nursing a hamstring injury. McCalister played in all 12 games and totaled 23 tackles last season.
With the news that running back Adam Lane was granted his release from the program due to personal reasons, opportunities in the backfield are expected to increase for freshmen running backs Jordan Scarlett and Jordan Cronkrite but also for senior Mark Herndon.
Herndon had a good practice on Monday. He was seen taking a handoff from quarterback Jacob Guy, busting through a hole in the left side untouched by the defense for a big gain.
"We're seeing him for the first time like we're seeing the other backs," McElwain said when asked about Herndon. "He's a guy that's really important to us. He works hard at it, he's going to play on every special teams as well… When you're in that second, third running back role, you got to be a guy on every special team."
Another player gaining attention is defensive lineman CeCe Jefferson. The freshman out of Baker County has been receiving praise from his teammates.
"He's one of the young guys doing a heck of a job. He shows up and he's not the only young guy that's been stepping up. I'm sure glad that he is here. He's a guy that can make an impact," said McElwain. "He's a guy that's eager to learn, jumped right in to everything we're doing."
The Gators will resume practice on Wednesday.
To listen to the audio from the story, click below:
McElwain on the injury updates
McElwain on senior RB Mark Herndon
McElwain on freshman DL CeCe Jefferson
McElwain on first practice with pads