The Orlando Magic (6-8) and the Miami Heat (9-4) were both in action on Monday night as they looked to earn victories on the road and at home, respectively.
Unfortunately, the Magic dropped their second straight game after losing to the Cavaliers, 117-103, in Cleveland. After leading the Cavs, 42-34, in the middle of the second quarter, the Magic ran into a buzz saw when Cleveland forward Kevin Love went on a personal run of his own, scoring 17 straight points in a span of about five and half minutes before the end of the first half.
Cavs Head Coach David Blatt says the team did a great job of getting the ball to him.
Love's scoring streak proved to be the end of Orlando's chance at winning the game, as the Cavs came out in the third quarter and extended their lead even more by outscoring the Magic 33-21. Although Orlando had turned the ball over just ten times throughout the game, Cleveland ended up scoring 21 points off of those turnovers.
Andrew Nicholson led the way for the Magic off the bench with 18 points and eight rebounds, while Orlando's starting lineup was outscored by the Cavs 99-44. Love finished with 34 points and eight rebounds in 34 minutes of action.
Magic Head Coach Scott Skiles says they didn't play at a high enough level to win the game.
Orlando will look to snap its two game losing skid when they play the Knicks tomorrow night at home.
Meanwhile, unlike the Magic, the Heat won its third consecutive game after throttling the Knicks, 95-78, at the American Airlines Arena.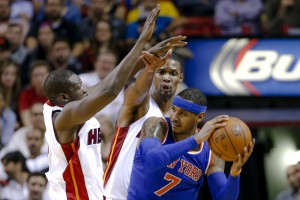 After being down by seven points early in the first quarter, the Heat took a commanding 22 point lead into halftime after holding the Knicks to just 11 points in the second quarter. New York scored just 30 points in the first half and shot 32 percent shooting for the game.
Despite being inefficient offensively, rookie Kristaps Porzingis managed his seventh double-double of the season with 20 points and 14 rebounds.
The Heat had five players reach double figures scoring in the game with guard Dwyane Wade and forward Chris Bosh each adding 16 points.
Heat Head Coach Erik Spolestra says he was pleased with the team's overall effort.
Miami will try to extend their winning streak to four games when they play the Pistons tonight in Detroit in the second night of their back-to-back.