Tonight, LeBron James and the Cleveland Cavaliers (14-7) will be in Orlando to take on the Magic (12-10).
As the first quarter of the regular season wraps up, the Cavs are in first place in the Eastern Conference, despite losing both Kyrie Irving and Iman Shumpert to injuries.
Shumpert and Irving both made the trip down to Orlando and Cavs' Coach David Blatt hinted that the two may even play tonight or next week against Boston. Irving fractured his kneecap in last seasons NBA Finals, while Shumpert injured his wrist in the preseason.
Meanwhile, the Magic have won seven of their last eight home games.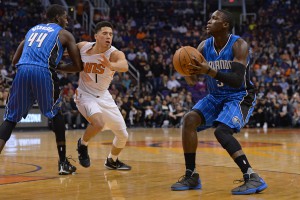 Orlando guard Victor Oladipo knows his team is capable of competing with the best, but they need to put together a complete performance.
Most recently, the Magic suffered a deflating 107-104 loss in Phoenix. After dropping two of their past three road games, Magic forward Tobias Harris said the team must remain consistent.
Orlando is only a game and a half back in their division – with the Hornets, Heat, and Hawks all competing for first place the Southeast.
If either Shumpert or Irving decides to play, the Magic may have trouble with the Cavs' talented backcourt. Meanwhile, King James is averaging almost 27 points per contest and the Cavs are starting to find a rhythm.