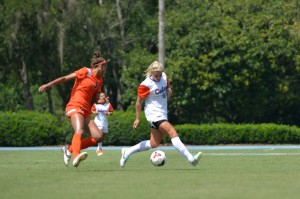 Savannah Jordan and Florida will have to overcome Jacksonville to get to the second round of the NCAA Tournament
The University of Florida soccer team lost their first match since early October last Sunday. They'll try to get back on the right track as they come home for the first time in weeks, facing the Jacksonville Dolphins Saturday afternoon for a chance to get to the second round of the NCAA Tournament. A team that Florida head coach Becky Burleigh said she was rather unfamiliar with, after watching the tape Burleigh said Florida and Jacksonville have approaches that resemble each other.
"They really try to play a very similar style that we do. I think we have some better athletes, but I think in terms of tactics it will be very similar."
Florida's loss to Texas A&M was UF's first loss this season when playing with a lead. The Gators took a 1-0 lead into halftime but were unable to hold it, as the Aggies tallied twice en route to the SEC Tournament championship. Burleigh said the loss was a learning experience and added she felt it was a necessary wake-up call.
"I don't think it's a motivation but what I think a loss does, I have this quote on my wall in my office, it says 'losing is a lens through which you see yourself more clearly'. I really believe that because when you lose you're really forced to examine what's going on," said Burleigh.
For Florida, a team that at the beginning of the season was expected to have growing pains after the loss of so many talented seniors to the pros, this postseason game provides a challenge but a home field advantage should help this young team. The team's youth has been their saving grace though, as freshman phenom Savannah Jordan has been a consistent source of offense. Burleigh said if her team can execute they'll be well on their way.
"For us it's really going to come down to execution because I think we're going to find space, I think we're going to find places to take them one versus one, but in the end with our game, we're trying to put the ball in an eight yard by eight foot space, and we've got to do that efficiently."
Saturday's contest kicks off at 2 PM at Pressly Stadium.
For more Becky Burleigh audio, click the links below.
Burleigh on similar playing styles
Burleigh on learning from losses