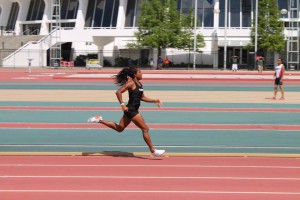 University of Florida's 4×400 meter track runner Loreal Curtis wasn't always in blue and orange, but her heart was. Curtis was born and raised in Houston, Texas where she attended Lutheran South Academy. During her senior year she signed a full scholarship to DePaul University in Chicago.
"I signed to DePaul because I wanted to get away from Texas and out of state" said Curtis. "I had a pretty big scholarship there and my parents wouldn't have to pay like they have done my entire life when I attended private school."
At DePaul Curtis was off to a pretty successful start with her biggest success coming when she ran on the 4×100 meter relay team that broke the DePaul record at the FSU Relays by running the race in 47.03. But despite her accomplishments, she's always had a passion to run for her dream team, the Florida Gators.
"Florida's always been my dream school," she said. "After my sophomore year I realized that DePaul wasn't for me so I stayed consistent with emailing Florida and one day they finally responded and I transferred."
Upon her arrival in Gainesville, she faced some academic issues."At DePaul I was ahead, I could graduate early because I was so far ahead."
But Curtis wanted to have her four years of eligibility. With her transferring to Florida, only 60 of the 120 credits that she already had were accepted by the university. While at DePaul, her expected graduation date was spring 2014, that date has changed to summer 2015.
On the track, she also faced a lot of differences, saying "both teams are really different."
DePaul was smaller with many athletes from the area; Florida has more diversity and she enjoys having teammates from all around the country and she also enjoys having a bigger team in general. Curtis also mentions that the weather in Gainesville compared to Chicago are "polar opposites" and she sometimes misses having all four seasons in Chicago.
With Curtis graduating next summer, her dream is to win a championship with her team. In her first season in a Gator uniform her 4×400 meter relay team finished fourth at outdoor nationals and third at indoor nationals.
But even if she doesn't, she says that she'll still be satisfied that she was given the opportunity to attend the University of Florida and run for her favorite team.
"I'm living the dream."