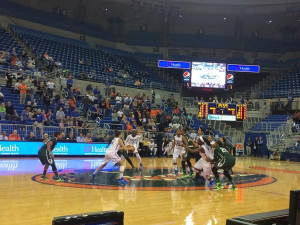 The Florida women's basketball team holds on in its season opener to defeat Jacksonville University 84-73 on Friday. Despite the win, Gator coach Amanda Butler says the team has a lot of improvements to make. The team shot on 40-percent in the first half to JU's 48 percent but Florida still managed to enter halftime with a four-point lead 37-33.
"Defensively, I think that we rushed a little bit. We didn't shoot the ball too well from the three [point line] and that's not something we are really concerned with. We are getting high percentage shots and we have to make those matter," said Butler.
"All in all, I thought Jacksonville did a fantastic job and showed a lot of fight and resilience. They are a great team to play against this early in the season and to be tested in specific ways. I think today is going to help us going forward."
Florida's saving grace came from its bench, which scored 38 points with 16 coming from Antoinette Bannister who helped the team open up the second half on a 10-4 run. The team shot 64-percent from the field in the final half.
"I think Antoinette in particular did a great job of establishing that if I get to be in that second wave, then I'm going to make that second wave even more important than the first wave" said Butler.
Defensively, the team gave up 36-points in the paint, 17 bench points, and eight second chance points. Butler says that her team's defensive play has to improve in order for them to keep winning.
"The thing we're the most concerned with is our defensive consistency. We've got to close that gap a little bit better between possession to possession."
Next up for Florida is a match up against the Longwood Lancers Monday in the O'Connell Center. You can catch the game right here on ESPN 850 WRUF. Tip-off is set for 4:15pm.