Opening day is set for April 5th and the Miami Marlins enter this season looking to remain healthy improve upon their third place finish in the National League East, a deep 20 games under .500.
The Marlins start off the season projected to finish very similar to last year at third in the NL East at 79-83 (ESPN).
The key difference and word here is healthy.
Break it down, @Giancarlo818. https://t.co/yT045V6LkX pic.twitter.com/U0fLm9pENl

— MLB GIFS (@MLBGIFs) March 30, 2016
Let us not forget the success of this team centers largely around ace Jose Fernandez and slugger Giancarlo Stanton, who both missed large portions of the 2015 season. Fernandez showed a successful return on the mound from 2014 Tommy John surgery in the second half of the season, posting a 2.92 ERA over 11 starts.
But as Fernandez returned, Stanton suffered a season-ending broken hand. Stanton kept the Marlin's offense alive with 27 home runs, 67 RBIs, and a .346 on base percentage.  Fast-forward to 2016 opening day; Stanton's hamate bone will be fully healed and Fernandez returns another year removed from surgery.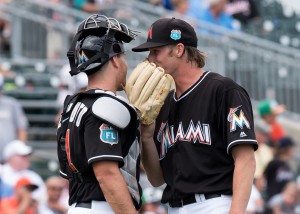 As these two stars can be the largest strength for the Marlins, it can also be their biggest weakness if they don't stay healthy. Miami will look for support elsewhere, starting at the mound.
The Marlins were relatively quiet in terms of new additions in the offseason, except for the addition of left-handed pitcher Wei-Yin-Chen. This durable veteran fills a reliable hole in Miami's bullpen, compiling a 46-32 record with a 3.72 ERA in his 117 starts in the big league.
Last season, the Marlin's compiled a 4.02 ERA, with the starters sitting at a 4.25 mark and the relievers at 3.66.
The pitching rotation is set:
1. Wei-Yin Chen
2. Jose Fernandez
3. Adam Conley
4. Tom Koehler
I am excited for the year. It's going to take #all25 and then some. #fish16 pic.twitter.com/gzFSBD1gZ7

— Tom Koehler (@TKREFRESH22) March 31, 2016
If Miami wants to be successful this year they are going to have to build upon last year's 3.8 runs per game average (the league's second worst, right behind the Braves) with a much improved lineup. While the Marlins aren't known for being a slugging team (Stanton aside), they did manage to finish in the middle of the pack with their .326 OBP last season. But getting on base is useless unless it turns into runs and Stanton should have plenty of opportunities to drive in All-Star Dee Gordon, who averaged .333 last season with 205 hits and 88 runs, and Christian Yelich, who averaged .300 with 143 hits and 63 runs.
According the MLB.com here is the projected opening day lineup:
Miami Marlins
PLAYER
POSITION

1

Dee Gordon

2B

2

Christian Yelich

LF

3

Giancarlo Stanton

RF

4

Michael Morse

1B

5

Martin Prado

3B

6

Marcell Ozuna

CF

7

Jarrod Saltalamacchia

C

8

Adeiny Hechavarria

SS
The Marlins will see a fresh look from the men in charge.
Miami adds it's forth manager since 2012, with the the addition of former Dodger's manager Don Mattingly, who offers five years of managerial experience in his 446-363 career. Former slugger Barry Bonds was also hired to help rejuvenate the offense alongside veteran Frank Menechino.
Mattingly talks about how he used Spring Training to help determine the lineup.
Manager Don Mattingly talks about establishing the @Marlins batting order this spring… #MLBhttps://t.co/Tgeisv3qRB

— FOX Sports Florida (@FOXSportsFL) March 29, 2016
The Miami Marlins will open up the season at home on April 5 against the Detroit Tigers at 7:10 p.m.
Is it April 5th yet? @Marlins @Giancarlo818 pic.twitter.com/O4I4dtOw9r

— JJ (@JoseJavier523) March 29, 2016