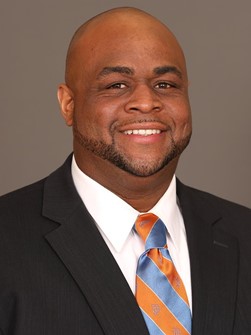 Under a new coach and high expectations, Florida's offensive line shaped up throughout the spring and is ready to get to the nitty-gritty for the Orange and Blue Debut.
Florida football welcomed new o-line coach Brad Davis to the staff this season, in replacement of Mike Summers. He joins the Gators from North Texas, where he was the run-game coordinator and offensive line coach. The year before that he coached at East Carolina.
Davis said his integration into coaching the Florida offensive line hasn't been a difficult one because familiarity and experience of the players. What he couldn't stop raving about was the group he had to work with. Davis said his room of players  are not only great off the field but are ready to meet expectations.
Low Numbers, High Intensity
Much of a struggle that can come from spring football is the lack of bodies on the field to even out drills and reps. The offensive line is waiting on around seven freshman linemen to join them, but Davis said the group he's had out there this spring has understood that they can't drop the tempo.
New #Gators o-line coach Brad Davis with the offensive line. pic.twitter.com/KghrN3b8pN

— Tanner Dennie (@TannerDennie) February 28, 2017
Davis said the buy in really started when they began to see results. He said they focused on being more physical at the point of attack and being able to run the ball.
Filling The Gaps
The biggest role that will need to be filled is left tackle David Sharpe. One of the consistent forces for the Gators on the line, Sharpe stared in all 13 games, one of only two Florida players to do so.
There's a lot of talk of who will be the Gators quarterback in the fall, but there's also some competition for who will be hiking it to him. Cameron Dillard, the 2016 season center, announced his transferring after the Outback Bowl. Although Dillard suffered a season-ending knee injury, he played and started in Florida's first eight games.
Coming Into Their Roles
The competition is led by redshirt-freshman T.J. McCoy. McCoy appeared in seven games throughout last season and made four starts. He took over at the role in the game against South Carolina and then started the final four contests of the season under center. Brett Heggie is his less experienced counterpart who didn't see game action last season but adds depth to the position.
#Gators OL Martez Ivey discusses getting more physical on the offensive line pic.twitter.com/0G3PXIkeQQ

— Graham Hall (@GrahamHall_) February 28, 2017
Sophomore Martez Ivey is also returning to the line and made thirteen starts last season at left guard and has continued development inside out this spring. He's a two-time SEC Offensive Lineman of the Week (UGA, South Carolina) and was named Second Team All-SEC by the league's Coaches and the Associated Press.
McElwain praises Martez Ivey's work at tackle and once again mentions OL Brett Heggie's improvement this spring.

— Scott Carter (@GatorsScott) April 3, 2017
Jawaan Taylor was the only freshman to play on the offensive line last season and will most likely continue to have a role this season. He played in all 13 games throughout the season and started 12 at right tackle. The young player proved himself on the field and was selected to the Freshman All-SEC Team by the leagues Coaches' and Gridiron Now… Member of ESPN All-SEC Bowl Team.
Although Tyler Jordan faced some injury last season there is promise in his return. He has experience at right tackle and center and gained game time in 11 appearances.
The season may not start officially for another five months, but Florida fans will get a taste on Friday night at the annual Orange & Blue Debut. Kickoff is set for 7:30 p.m.