The Houston Texans are now on an eight game win streak, a franchise record. They set this record by beating the Tennessee Titans 34-17 Monday night.
Not only did they set a franchise record, but Houston also is the first team in NFL history to win eight games in a row after starting 0-3.
Game Recap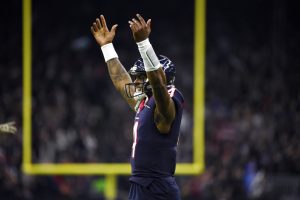 Texans quarterback Deshaun Watson threw two touchdown passes and ran for one in the win over the Titans. He completed 19 of 24 for 210 yards.
The Texans were down by 10 early in the game, but then went off in the last three quarters, scoring a total of 27 points. Lamar Miller ran for a total of 147 yards, including a 97-yard touchdown in the second quarter. This touchdown was the longest run in franchise history. It was also the longest run in the NFL since his 97-yard touchdown against the Dolphins on Dec. 28, 2014.
Demaryius Thomas also scored his first two touchdowns as a Texan after getting traded to Houston from the Broncos.
"Each and every week, especially now in November and December, is a playoff game, so we are trying to put ourself in a position to be where we want to be at the end of the year," Watson said. "We left a lot of opportunities out on the field in all three phases and we gotta come back in tomorrow, watch the film and correct those mistakes."
Even with the loss, Titans quarterback Marcus Mariota didn't look bad in the game. He was 22 of 23 for 303 yards and two touchdowns. Mariota said a failed fourth down conversion in the second quarter was the turning point of the game. Tennessee was down by four with the ball on the Houston three yard line when Titans coach Mike Vrabel decided they should go for it.
"We gotta do a better job at executing and they did a good, they did an even better job of turning that momentum and scoring points, I gotta give credit to them," Mariota said. "But we gotta execute better in those situations."
A Touching Salute
The Texans wanted to do something special for their late owner and founder Robert "Bob" McNair. McNair died last week at age 81. They honored him in a pregame ceremony that included the Texas A&M Singing Cadets performing "Amazing Grace." Painted on both 25-yard lines was a football with McNair's initials. The players also wore helmets with his initials on them.
"This night and every game really is for the McNair family and I know he's watching over us, you know, and we're gonna make sure we make him proud," Watson said.
Up Next
Houston is now 8-3 and will take on the Cleveland Browns this Sunday. Tennessee, now 5-6, is also in action this Sunday against the New York Jets.