The Florida Gator baseball team takes the first game of a three game set against South Carolina on Thursday, winning a stunning 3-2 game at home.  Florida improves to 17-18 overall and to 6-7 in the SEC while the Gamecocks fall to 27-7 and to 8-5 in the SEC.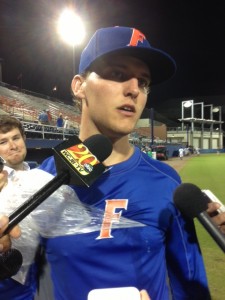 Junior Jonathon Crawford started on the mound for Florida and got the win, throwing 99 pitches before Daniel Gibson took over in the seventh inning, Ryan Harris came on in the eighth and Johnny Magliozzi ended the night for the Gators in the ninth inning. Crawford says the bullpen has improved and he's proud of the team for stepping up.
The Gators started off the second inning with singles by Justin Shafer and Vickash Ramjit. Josh Tobias laid down a sacrifice bunt but the ball was thrown away by the third baseman as a run scored.  Designated hitter Mike Fahrman gave the Gators a 2-0 lead with an rbi single.
The Gamecocks tied the game 2-2 in the top of the third. Crawford hit a batter and gave up a single to Graham Saiko.  A sacrifice bunt moved the runners up and one run scored on a wild pitch and another scored on a single by L.B. Dantzler.
Florida scored the eventual winning run in the fourth inning.   Ramjit led off with a bunt single and one out later Harrison Bader singled, moving Ramjit to third.   Bader stole second and Ramjit scored when catcher Grayson Greiner threw wildly to second base.
In the ninth inning, closer Johnny Magliozzi came on for Florida and it came down to Carolina's final at-bat with a runner on second base and two out.  Chase Vergason hit a sharp single to right field that looked like it would tie the game but T.J. Costen stumbled and fell about halfway between third base and home plate and Gator catcher Taylor Gushue threw him out as he was trying to scramble back to third base. Gushue says he was a little confused during the last play.
Gators Head Coach Kevin O'Sullivan says he thought the final play was well executed and a great way to end the game.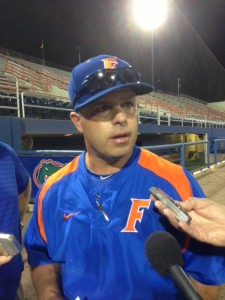 The Gators and Gamecocks will meet again tonight and you can hear the game live on Country 103-7 The Gator at 7:25pm.