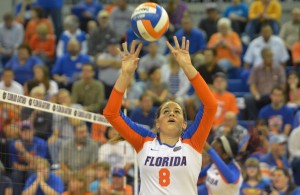 The Florida Gator volleyball team's season came to an end Friday night, as they fell to the Florida State Seminoles in the second round of the NCAA Tournament 2-3 (15-25, 25-20, 25-22, 22-25, 9-15). The loss kept the Gators from reaching the Sweet 16 for the first time since 2004.
Florida State came out with more energy with the Gators early on, dominating the first set.
"All credit to Florida State," said Gators head coach Mary Wise. "From 25-15 in the first set, they played just with so much effort and intensity and made the plays tonight and deserved to win."
Florida responded by winning the next two sets, but the Seminoles rallied to pull out the victory with wins in the fourth and fifth sets.
"Credit to Florida State, they played really well," said Gator Middle Blocker Chloe Mann. "They came out here, we were both fighting for our lives, and they played really tough. Their team was fighting to the end, and I'm proud of our effort."
FSU was led in the contest by Nicole Walch. Walch had 22 kills for the Noles, and was responsible for 26 points.
Mann led the charge for the Gators offensively in her final game. The senior recorded 14 kills and accounted for a team high 18.5 points.
"So sorry for Chloe that her career would have to end like this," said Wise. "But…in time, we'll look back, and Chloe's going to walk back with an incredible record over her four years, owning the NCAA hitting efficiency. This one will hurt for a while, but she's certainly left her mark on Gator volleyball, and there will be lots of opportunities to celebrate that."
As Wise alluded to, Mann will leave Florida with the NCAA career record for hitting percentage.
Florida's other senior, Taylor Brauneis, recorded 45 assists to lead the team in her final game.
Hear Coach Wise and Chloe Mann's comments below.