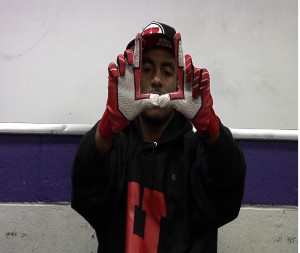 Gainesville native and GHS wide receiver Kenric Young verbally committed to the University of Utah today at a ceremony at Gainesville High School.
"For the next three to four years I will be taking my talents to Salt Lake City and to the University of Utah to play wide receiver on a full scholarship,"Young said.
The 6-foot-2, 180 pound senior also considered Iowa State but felt that Utah was a better fit for him, especially after his visit.
"The visit really sealed the deal this past weekend but what really got me was Monte Seabrook from Newberry and Tavaris William's from For White," Young said. When I met them and started talking to them and the coaches it really just made me realize that this is where I need to get a good education and get on the field early and make an impact."
Young says his mother and coaches have been a great support system for him throughout his high school career and played a tremendous role in helping him make the decision.
"I learned that you have to be humble throughout the whole process," Young said. You just have to stay composed and have a family; family at home and with your team and coaches. It's all about family."
Young also added that he's excited to play for the Utes and is looking forward to seeing what the future has in store for him.
"I expect getting the ball, getting on the field, and learning the play book fast," Young said. Using my speed like I have at GHS for the past four years, and stay on task throughout the whole college process."
Young's inspiration throughout process
Young's thoughts on the recruiting process
What Young plans on bringing to Utah