The Florida Football team concluded spring practice with its annual Orange and Blue Debut at Ben Hill Griffin Stadium on Saturday. 35,834 faithful fans packed the Swamp for a closer look at the development of the new uptempo, shotgun spread offense under offensive coordinator Kurt Roper. The Gators ran 111 plays and both teams combined for more than 600 yards of offense, ending in a 23-23 tie between the Orange and Blue. Florida head coach Will Muschamp said he is proud of how well the team has progressed this spring.
"Extremely pleased with the day offensively," Muschamp said. "After 15 practices with how far we've come, I attribute a lot of that to Kurt Roper and our offensive staff and the job they've done. Our kids have been very receptive. They have confidence in what we're doing, and I think it's a good fit. I really do."
After getting off to a slow start, starting quarterback Jeff Driskel along with the new and improved offense made their debut showcasing their talent, scoring 23 points, and piling up 258 total yards. Driskel also completed 19 of 33 passes for 171 yards including a 31 yard touchdown to Demarcus Robinson in his first game action since suffering a broken leg against Tennessee last season.
"I thought we were very efficient. We moved the ball very well," Driskel said. "We only turned it over one time, only had one penalty on offense. When you're not beating yourself up, you can really gain momentum and gain confidence. We had some big plays; that's just something we're going to have to continue to do in order to have a good offense, and I think we will."
The redshirt junior said the players have great confidence in Roper's offense.
"It means a lot," Driskel said. You have to believe in the scheme, which I'm sure our guys do," he said. "When you turn on the film of Duke from the last few years, they spread the ball around, they give it to a bunch of guys, and a bunch of guys making big plays. "When you see that from their team, it's exciting when you look at our skill players on offense."
Tailbacks Kelvin Taylor, Mack Brown and Adam Lane each had solid performances running the ball. The trio combined for 156 yards and two touchdowns, led by Lane with 64 yards on 12 carries.
"I'm very pleased with Adam Lane today," Muschamp said. "Kelvin made a really nice run, Mack made a couple nice runs as well. " We get Matt Jones back in the fall, so we have enough talent to have a great football team but these next 112 days are going to be critical for us."
Sophmore wide receiver Ahmad Fulwood also had a solid performance during Saturday's game. Fulwood talked about how the team as a whole is adjusting to the new offense.
"There is no conditioning and no type of running that you can do to that can prepare you for this type of uptempo offense," the Jacksonville native who had four receptions for 32 yards said. "As far as moving the ball, I think we do that very well, getting the ball out, spreading the ball around. It's met (the offense) and gone beyond my expectations."
Meanwhile, Florida cornerback Vernon Hargreaves III and defensive lineman Dante Fowler Jr. were held out of the spring game so coaches could see how younger players would perform and to prevent injury while Marcus Maye and Leon Orr missed the game due to injuries.
Florida fans wanted to see an impressive offense and the Gators delivered on Saturday. There are now 112 days left until fall camp begins, but the preparation for the 2014 season is in full swing.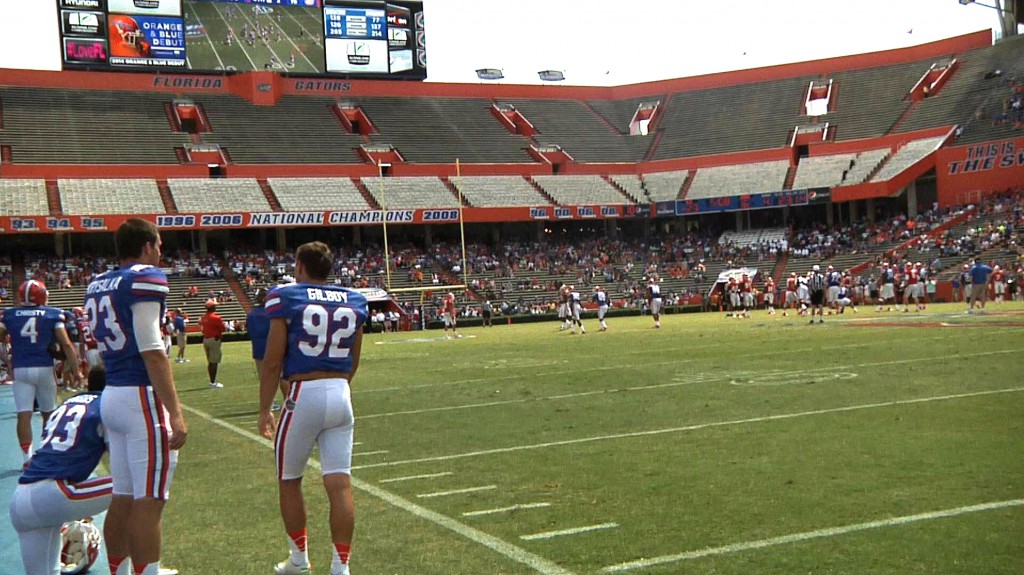 For audio on the above quotes, click below:
Driskel on teamates confidence on Roper's offense