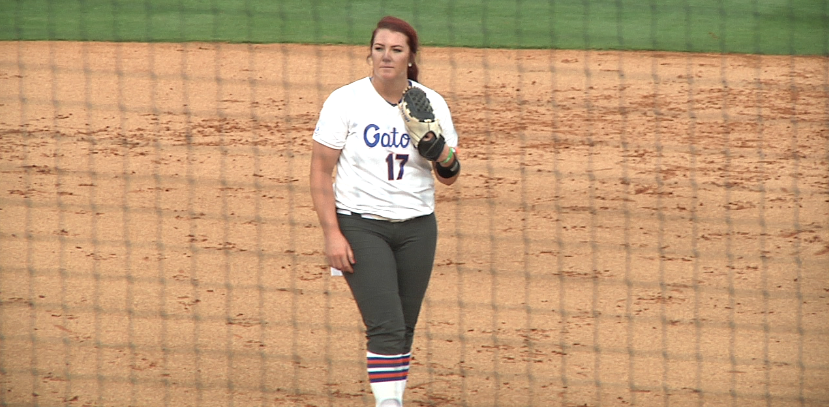 Lauren Haeger looking for the pitching signs after striking out a Wildcat.
The third ranked Florida Gator softball team played in front of a record crowd at Katie Seashole Pressly Stadium on Saturday as they opened up a series against the 13th ranked Kentucky Wildcats. Almost 2500 fans filled up the bleachers to watch a pitcher's duel to remember. The Gators would come up on top with a 1-0 victory over the Wildcats behind Lauren Haeger's two-hit shutout.
Florida third baseman Taylore Fuller believes the bigger the crowd, the better the team performs.
"The better the atmosphere, the better our team plays. We love having our fans here. We love having the support shown through that softball program."
Fuller was the only Gator to record a RBI against the Wildcats. Kentucky pitcher Kelsey Nunley threw six strong innings, only allowing that earned run to Fuller while striking out five. The one run came off an infield single with the bases loaded after some walks and a base hit. According to Fuller, the Gators were expecting a low scoring affair.
"We knew right from the start that it was going to be a 1-0, 1-1, 2-1 game. So, we knew what we were coming into and we are looking forward to the next couple of games."
That single run was all Florida needed with Lauren Haeger pitching the way she was; the senior only allowed three base runners all game while striking out four. This win improves her record to 18-0 on the season and drops her earned run average to 1.10. Haeger has never felt better in her college softball career.
"This is the best I have felt in four years. This is the best. I've worked really hard in the bullpen this year and it's starting to pay off and it's such a relief."
The Gators are now sitting on a record of 38-4, 9-4 in the SEC. April has been a good month for Florida as they have outscored their opponents 53-7, winning all six games. They look to keep the winning streak alive against Kentucky on Sunday and Monday at 3 p.m. and 7 p.m. respectively.
The Gators will be without outfielder Bailey Castro this weekend due to flu-like symptoms.
For full audio clips of quotes above and more, click below:
Fuller expected a close, low-scoring game
Fuller comments on Lauren Haeger and her work ethic
Fuller loving the home atmosphere
Haeger explains how she was on the top of her game
Haeger on her pitching approach
Haeger feeling better than ever
Walton pleased with Lauren Haeger's work all season
Walton on Bailey Castro's status