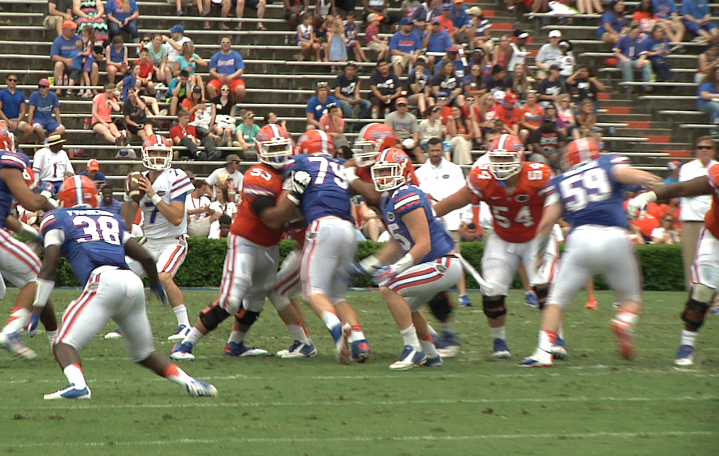 Will Grier dropping back to pass before he throws it to Alvin Bailey
With the completion of the Orange and Blue Debut on Saturday, Florida football head coach Jim McElwain has officially completed his first spring schedule. The Orange squad defeated the Blue 31-6.
The former Colorado State head coach has had to deal with a lack of depth at several positions, including at offensive line and linebacker. Being that it was his first spring in Gainesville, the players still have a lot to learn from his system. McElwain shared what he wants to instill in his players after the game.
"Getting the guys to understand the attention to detail, the focus on the communication, and the mindset to go win this play. That's where we got to get."
The position battle that headlined the Orange and Blue Debut and the entire spring is that of the quarterback position. The Gators have six quarterbacks on roster, but it's going to come down to two players, Will Grier and Treon Harris.
Both took snaps for both the Orange and Blue side. Grier finished 8 of 11 with 136 passing yards, leading the offense to three scoring drives. Grier's best throw of the day perhaps came off a flea flicker that he tossed for 42 yards to receiver Alvin Bailey. Grier admitted after the spring game that he needs to learn to accept mistakes.
"I just need to be the same steady guy all the time. It wasn't frustration that the receiver dropped the ball or anything like. It was just more of me wanting to be successful and be perfect in every aspect."
Harris had a strong showing as well. The true sophomore finished 6 of 10 for 94 yards and a touchdown pass caught by tight end C'yontai Lewis. Harris missed several practices this spring after going home to spend time with his family after his cousin's death, paving the way for Grier to take more snaps with the first team. Harris said after the game that he has ground to make up.
"I got a lot of catching up to do. From the days that I missed, the install that they put in I wasn't here. I was reading over it and watching it but I didn't rep it. So I have to get better at that, catching up."
The Florida Gators now enter the offseason. They will be back in The Swamp on September 5 against New Mexico State and will start practices again in August.
For full audio clips of quotes above and more, click below:
McElwain says unforced errors needs to be avoided
McElwain's steps to take for a better offense
McElwain tips his hat to the offensive line
McElwain on what he wants to instill in his players
Grier needs to gain a short memory
Harris says he still needs to catch up