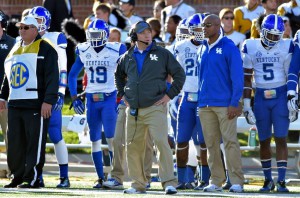 After orchestrating an impressive two year turnaround, Kentucky Wildcats head coach Mark Stoops is entering his third season with high expectations for the team. Last season, the Wildcats improved from 2-10 (0-8 SEC) to 5-7, earning two conference wins.
As the 2015 college football season nears, Kentucky fans hope that Stoops can continue making improvements. Kentucky's inexperienced offensive line battled hard last season, protecting QB Patrick Towles as he threw for 2,718 yards, completing 57.3 percent of his passes. Junior center Jon Toth will lead the offensive line as they match up against some of the most talented defensive lines in the country. Based on recent commitments, Stoops' diligent recruiting has paid off and the Wildcats finally look like an SEC team in terms of size and strength.
"I'm proud of our staff. They've worked hard at recruiting quality players and very good people," Stoops said. "We need to continue to develop the players that we have on our campus."
One of those players, safety A.J. Stamps, led the team with four interceptions in 2014.
"I'm never comfortable. I'm never satisfied," Stamps said. "There's a lot left in the tank. Hopefully I can come and show that off this season."
The Wildcats will need a strong defense if they intend on competing in the SEC East this year.
The team's offseason improvements are not limited to its athletes. A $120 million renovation to Commonwealth Stadium will be revealed on September 5th when the 'Cats kick off their season against Louisiana-Lafayette.
"I'm kind of on the same side as Coach Stoops," senior nose guard Melvin Lewis explained. "I just can't wait to see it. We're very excited about it."
Stoops' influence has completely revitalized the Wildcats and this season they will aim for their first bowl game appearance since 2010. In college football's most competitive conference, Kentucky fans can rest assured that Mark Stoops is making the right decisions to generate success in the future.
Audio from this story can be found below:
Stoops is proud of his coaching staff
Stamps is hungry for more success