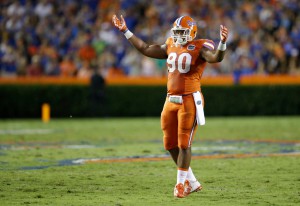 When Jim McElwain took over as head coach for the Florida Gators, he hired Terrell Williams away from the Oakland Raiders to coach the Gators defensive line unit. The honeymoon period lasted a little less than a month between Williams and the Gators before he bolted back to the NFL and joined the Miami Dolphins coaching staff.
McElwain then turned to Austin, Texas to find the replacement to Williams. Enter Chris Rumph, the assistant head coach for defense and defensive line coach for the Texas Longhorns. Rumph and McElwain worked together under Nick Saban at Alabama during the Crimson Tide's 2011 national championship run.
After losing defensive end Dante Fowler Jr. to the NFL draft last January, Rumph had his work cut out for him with a defensive line unit that had several question marks. Jon Bullard decided to return to school for his senior year, but outside of the senior from North Carolina, Rumph and the Gators needed others to step up. And step up they have.
Gator fans have become accustomed to hearing names like Caleb Brantley, Alex McCalister, CeCe Jefferson, Bryan Cox Jr., and many more on Saturdays. The Gators are currently second in the SEC with 18 sacks on the season (Texas A&M has 19). Not only has Florida been great getting after the quarterback, the Gators are also second in the SEC in rushing yards allowed at just shy of 98 yards per game (Alabama allows 84 per game). What's even scarier about this unit is that Rumph believes they still have lots of room for improvement.
"We still haven't played our best game yet as a unit," Rumph stated. "We've had some good individual performances through the first few games, but as a unit we still have a ways to go. Those guys have to get better and I've got to coach them better."
Florida has tallied at least three sacks in the past five games which matches the longest streak since 2009. The Gators have also notched at least 10 tackles-for-loss in four consecutive games for the first time since 2000. Seven Gators on the defensive line have notched at least half a sack with the aforementioned Jon Bullard leading the unit with four-and-a-half. Bullard has also registered nine-and-a-half tackles for loss so far this season, but Rumph still wants to see more out of the versatile Bullard.
"He's doing some good things," Rumph noted. "He still needs to be more consistent on some of the small things but he's making headway, he's heading in the right direction."
With the Gators taking on the Missouri Tigers this Saturday night, there may not be as many opportunities to get after freshman quarterback Drew Lock. The Tigers run a similar offensive system to that of East Carolina and New Mexico State which focuses on getting the ball out of the hand of the quarterback. While Florida has big match ups looming against LSU and Georgia which feature, arguably, two of the best running backs in the country in Leonard Fournette and Nick Chubb, Rumph wants his unit to be totally focused on Missouri.
"Missouri's a really good team and we're focusing on Missouri," Rumph said. "We have to stop their running back (Russell Hansbrough). They have a good running back, I think he's going to be healthy this week, he's going to be back, big guy, he's a senior, and he's played a lot of ball so we got to stop that guy."
There's no question Florida will have their defensive line tested throughout the rest of the season but if the first five games are any indication, Rumph and the Gators should be up to the challenge. As Rumph said, however, it all starts again this Saturday night in Columbia, Missouri as Florida will put their 5-0 record on the line against the two-time defending SEC East champion Missouri Tigers.
Rumph Believes DL Can Be Even Better