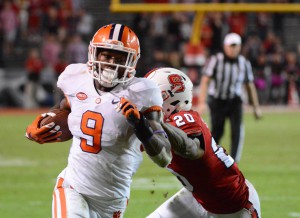 The first College Football Playoff Committee have been released and the top four teams are perhaps not what many expected them to be.  Clemson sits atop the poll at number one followed by LSU, defending champ Ohio State and Alabama at number four despite having a loss on the season.
Alabama jumped unbeatens Baylor, Michigan State, and TCU who all rank above the Crimson Tide in the AP Top 25. Bama was not the only team to jump those unbeaten teams; Notre Dame sits at number five with a 7-1 record as well.
ESPN College Football Playoff reporter Heather Dinich says that the committee clearly likes what they see from Alabama on the field enough to put them over these undefeated teams.
Baylor, Michigan State, and TCU rank sixth through eighth; rounding out the top 10 is Iowa at number nine and Florida at number 10.  Stanford is at number 11, the only team in the AP Top 10 to not be ranked in the top 10 in the playoff rankings too.
The Buckeyes have been the top seed in the nation all season long, but because of inconsistent play from their starting quarterbacks and the fact that they haven't played a top-25 team yet it seems these factors had an impact on the committee in terms of how it views Ohio State.
The SEC led all conferences with six teams in the committee's top 25 (Ole Miss No. 18, Texas A&M No. 19, and Miss St No. 20).
The rankings could look very different by the end of the season though, because many of these teams still have to play a tougher part of their schedule. TCU still plays Baylor; Ohio State still has to take on Michigan and Michigan State, and Alabama plays LSU this weekend in what is now a potential playoff preview. The committee will make their final decisions on December 6th.