The Florida basketball team welcomes North Carolina A&T to the O'dome tonight. Tip-Off is set for 8 pm.
Florida Head Coach Mike White said He's glad to have the "Rowdy Reptiles" on his side.
This is the second time in program history. Florida head coach Mike White opened his UF tenure with a 59-41 victory at Navy last Friday. This is the first time since 1996-1997 season that a coach not named Billy Donovan will be on the sidelines in the O'Connell Center. White follows what Billy Donovan did in each of his 19 years, which was winning the season opener.
The Orange and Blue are 1-0 all-time against North Carolina A&T and are 25-0 against teams from the Mid-Eastern Athletic Conference.
Forward Devin Robinson came off the bench to contribute his first career double-double with 13 points and 10 rebounds in a team-high 28 minutes against the Midshipmen. Robinson was the only Gator to reach double figures in scoring while forward Dorian Finney-Smith had four points and 12 rebounds. Freshman guard KeVaughn Allen made his debut for the Gators and notched nine points. The last Florida player to start in his freshman debut was Allen's backcourt teammate, starting point, Kasey Hill. Guard Kasey Hill finished with eight points, four rebounds and five assists while center John Egbunu had eight rebounds and four points.
Florida had 19 turnovers against Navy and 23 turnovers against Palm Beach Atlantic in the exhibition game. In two games including the exhibition game, Florida has 42 turnovers total and need to solve the ball security issues with this team heading into the season early on.
In the game against Navy five different players scored their first points for the Gators in Friday's season opener: John Egbunu, Brandone Francis-Ramirez, KeVaughn Allen, Schuyler Rimmer and Lexx Edwards.
The Orange and Blue had two players grab double-figure rebounds in the win at Navy, Dorian Finney-Smith and Devin Robinson. This marked the first time since Feb. 1, 2014 when a pair of Florida teammates did the same since Patric Young and Will Yegeute at Texas A&M.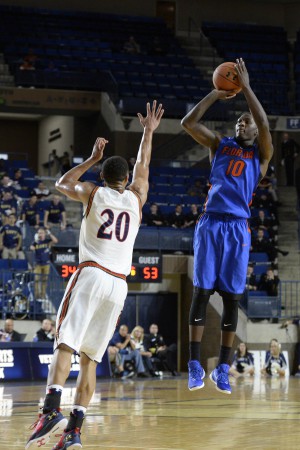 Florida also dominated the glass as UF won the rebounding battle against Navy 47-33. This number was surpassed only once last season, when the team posted 49 rebounds in an overtime win against Louisiana-Monroe.
The first meeting between these two teams coming 5 years and 2 days on the day, when UF defeated NC A&T 105-55.
Florida has never had in a game more double-digit rebounders than double-digit scorers in a game during the Donovan Era, but somehow this unique stat happened in White's first game in Friday's win.
Florida had seven players score in double figures in a 105-55 win at the O'Connell Center, led by forward Chandler Parsons and guard Kenny Boynton with 16 points each. Guard Erving Walker, center Patric Young, forward Erik Murphy and guard Scottie Wilbekin all scored 11 points, while Vernon Macklin added 10.  Forward Will Yeguete finished with 15 rebounds in 23 minutes for the Gators. Nic Simpson led North Carolina A&T with 11 points, while Thomas. Coleman snagged 10 rebounds.
North Carolina A&T returns its top seven scorers from last season. Senior forward Bruce Beckford, who is the top scorer, averaged 15.1 points per game last season. The Aggies posted a 9-22 record during the 2014-15 season, including 6-10 in MEAC play. Beckford led the team with nine points in the season-opening loss at Purdue.