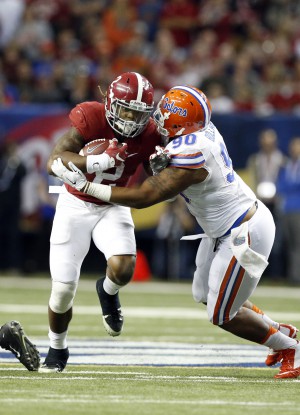 Five Florida Gator football players were named to the Coaches All-SEC First and Second teams Monday afternoon. Four of the five players came from the defensive side of the ball.
Senior Jon Bullard was named to the first team, as a defensive lineman, along with Vernon Hargreaves III and Jalen Tabor, who made it as defensive backs.
Bullard led the Gators this season with 17.5 tackles for loss and 6.5 sacks, while having a total 63 combined tackles; his previous career high in sacks was 2.5 back in his junior campaign.
Tabor and Hargreaves both had four interceptions this year, but Tabor led Florida with 14 pass breakups and two defensive touchdowns. Hargreaves did make history this season though becoming the first player to be named first team All-SEC three straight seasons.
Antonio Morrison earned a second team All-SEC honor as a linebacker for the second straight season. He led the Gators with 97 tackles this season and also recorded 2.5 sacks, three quarterback hurries, and one pass breakup. Morrison was four tackles shy of matching his career high he set last season.
Redshirt sophomore Johnny Townsend was the fifth Gator selected making the second team All-SEC special teams list. Townsend led the SEC this season in total punt yards with 3,549 and he also averaged a career best 44.4 yards per punt.
The Florida Gator football team will be in action next when they face the Michigan Wolverines on January 1st in the Buffalo Wild Wings Citrus Bowl.