In a match-up that pitted the all-time leader in passing yards in NFL history against the current MVP, it was a player on the defensive side of the ball that stole the spotlight (on the field, at least).
Denver linebacker Von Miller led the way for the vaunted Bronco defense with 2.5 sacks, 2 forced fumbles and 5 total tackles on his way to being named the Super Bowl MVP. Miller disrupted Cam Newton and the Panther offensive line from the onset, with his first sack and fumble directly leading to Malik Jackson's fumble recovery for a touchdown that gave the Broncos a 10-0 lead. Newton and the Panthers were never able to recover, and Miller's 4th quarter sack and strip of the football served as the final blow to any hopes of a Carolina comeback.
We'll take this MVP.#SuperBroncos pic.twitter.com/UMOZIi6mdg

— Denver Broncos (@Broncos) February 8, 2016
Fresh off being named the NFL's Most Valuable Player, Quarterback Cam Newton was sacked a total of 6 times by the Broncos. Receiver Ted Ginn was also sacked on an attempted trick play, bringing the total of sacks to 7 which equaled the most by any team in a Super Bowl.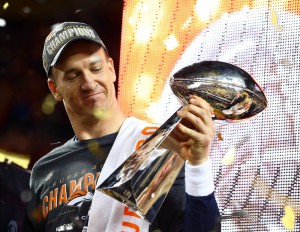 Newton's frustration was evident post game, as he only completed 18 of his 41 pass attempts and threw an interception. His 45 yards on the ground proved to not make much of a difference in the end, with running back Jonathan Stewart only running for 29 yards himself.
Peyton Manning certainly did not play like the all-time leader in passing yards in NFL history this season, and Sunday in Santa Clara was no different. Manning threw for just 141 yards and a touchdown to go along with a 56.6 quarterback rating. While he played a mostly supporting role in the victory, however, history will likely remember it as Manning becoming the winning-est quarterback in NFL history to in route to his second super bowl ring.
To many this sets up the perfect scenario for Manning to walk away from the game and ride off into retirement as a champion. When asked afterwards if he had just played his last game as an NFL quarterback though, Manning said he'd take the advice of former head coach and 2016 hall of fame inductee Tony Dungy and not make an emotional decision. 
The rest of the Bronco offense combined for a total of 194 yards, the lowest total ever for a Super Bowl winning side.