"Recruit Daily or die" is the motto for the head coach of the Gators, Jim McElwain. Since 2015, when he became the headcoach for Florida, he has been striving to reshape the Gators into a championship program. Now, for the third consecutive year, Friday Night Lights is sure to be a success under McElwain. UF is scheduled to host some of the nation's top overall prospect in every position– making this one of the most popular college camps in the country.
There's nothing better than football in #TheSwamp under the lights! Registration for July camps live now at https://t.co/FiGa1ZQGCv #FNL2017 pic.twitter.com/iRrW26T9DD

— Jim McElwain (@CoachMcElwain) July 6, 2017
Here are some important players that will be at the camp this week:
Quarterback: Matt Corral (Long Beach, California)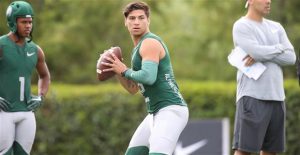 Matt Corral is a 5-star quaterback that arrives on the UF campus this week. He will be attending McElwain's Next Level QB camp. Corral also tweeted that he plans to visit Athens on the 26th of this month.
I will be in Gainesville on the 21st and I will be in Athens the 26th. #GoDawgs #Swamp18

— M A T T Y I C E™ (@corral_matt) July 17, 2017
He will most likely decide between Florida or Georgia before the start of his senior year.
Offensive Lineman William Barnes, Apoka, Florida
While Barnes unoffically made a visit earlier this month to Alabama, he opted to come to Friday Night Lights instead of attending Alabama's Champions Cookout. However, right now the battle for Barnes lies mostly between Florida and North Carolina. Barnes is ranked No. 49 overall prospect in the 247Sports Composite and is ranked No. 4 in the nation for offensive tackle.

Running Back: Dameon Pierce, Bainbridge, Georgia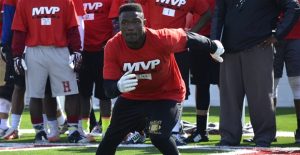 This is not Dameon Pierce's first visit to UF. Back in March Pierce unofficially visited Florida. He is definitely is one of Florida's top targets at the position. Pierce orginally commited to Alabama, but de-commited just two months after coming to Gainesville.
Defensive Linemen: Azeez Ojulari (Marietta, Georgia)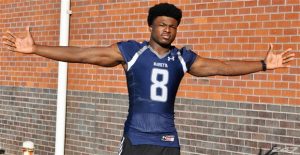 According to reports, it seems that Azeez Ojulari might stay in-state and play with the Bulldogs. However, the Gators still have their eye on him and maybe this week will give Florida a chance to impress him before he commits by the end of the summer.