After an electric start to the season, the No. 7-ranked Gators will be in Tampa tonight to take on the University of South Florida Bulls at 6.
Florida
After ending their season in Gainesville last year, the Gators have one goal in mind this time around: Omaha.
And with the way things have started, it looks like they might just have a pretty strong chance of making it back.
The Orange & Blue opened their season this past weekend with a sweep of Charleston Southern. Across three games, they outscored the Buccaneers 37-5 with a total of 34 hits, mercy ruling them in both games of the series.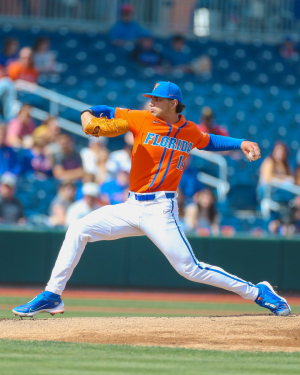 Bats were hot this weekend, with Ty Evans and BT Riopelle leading the team in RBI's. The pair is a responsible for 18 of the 37 runs scored during the series.
Evans, a sophomore, ended the weekend with the team's highest batting average at .600.
Freshman Cade Kurland made his college debut with four hits in seven at-bats, finishing the series right behind Evans with a batting average of .571.
Riopelle and Tyler Shelnut were responsible for the team's two home runs this weekend.
After missing the mound last season recovering from Tommy John surgery, Sophomore Jac Caglianone made his pitching debut in the final game of the series.  He threw a total of 79 pitches, keeping a velocity in the 90's through 6 2/3 frames, allowing two hits and zero runs.
He also struck out nine batters, tying Karsten Whitson for the most strikeouts in a Gator pitching debut, a feat that Whitson accomplished in 2011.
Have. A. Debut. @jac_caglianone

6.2 IP
2 H
0 R
1 BB
9 K pic.twitter.com/5MUyn8cbgo

— Florida Gators Baseball (@GatorsBB) February 19, 2023
South Florida
The Bulls, conversely, started their season in a slower fashion this past weekend. While it started with a narrow victory over No. 13 Maryland, they ended the series with a pair of losses to the Terrapins.
Across the three games, USF was outscored 24-14. The team had a total of 24 hits, seven of which came from senior Travis Sankovich.
In his Bull-debut, Sankovich had three RBIs in 12 at-bats, ending the weekend batting .581.
Bobby Boser, Daniel Cantu and Drew Brutcher each hit home runs, establishing themselves as dominant factors at the plate for the Bulls.
https://twitter.com/USFBaseball/status/1627402038979047425?s=20
What to Expect
Starting on the mound for the Gators vs. USF will be freshman southpaw Cade Fisher.
Fisher came to Gainesville with multiple accolades, including the Georgia state record for ERA (0.71). Fisher relieved Hunter Waldrep in the sixth inning this past Saturday to finish the game, striking out one batter and allowing no hits in the one inning he pitched.
The Bulls, on the other hand (pun intended), will start sophomore righty Jack Cerbert. Cerbert made 21 appearances during the 2022 season, ending with 35 strikeouts and a 7.09 ERA across 39.1 innings pitched.
Wednesday night, the teams will be in Gainesville at Condron Family Ballpark to face off once more with scheduled star-time of 6 p.m.