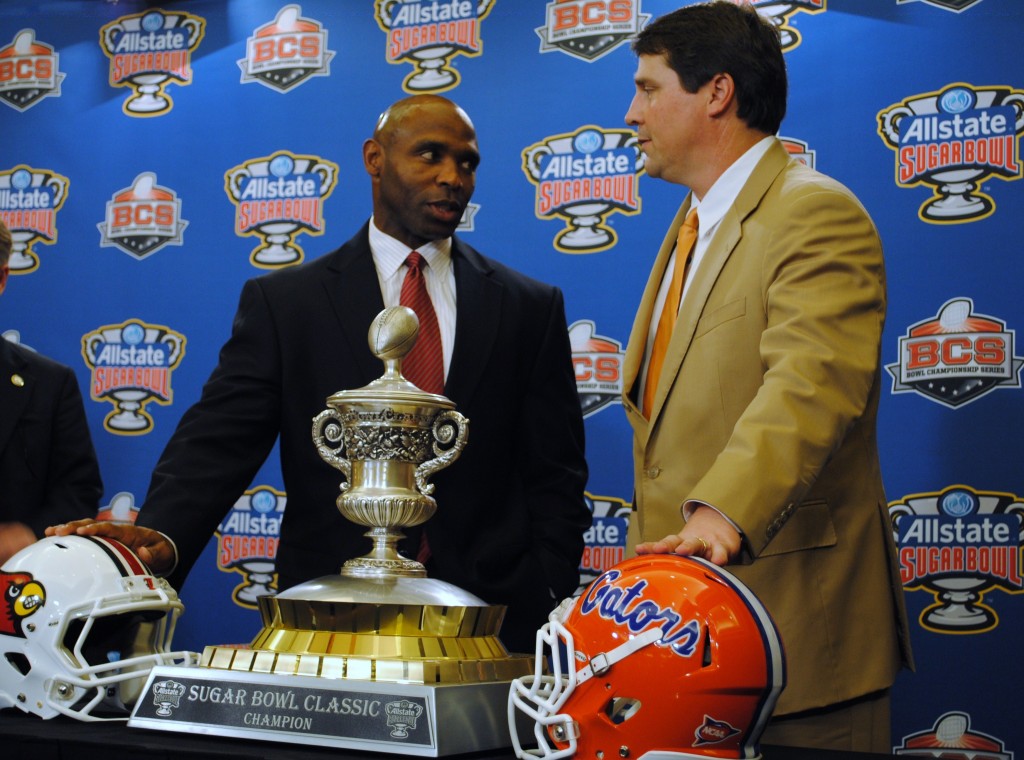 It is the home stretch for the Florida Gators and their Sugar Bowl appearance tonight in New Orleans.   Gator coach Will Muschamp jokes about the 24 hours leading up to the game and the numerous team meetings and walk throughs that will occur.
"We'll bus to the Superdome and have a normal Friday walk through, come back to the hotel, have dinner and meetings and walk throughs. We don't go to a movie or anything. Our guys, they'd rather just stay at the hotel. Get up in the morning and have some more meetings and walk throughs and then eat some brunch and have some more meetings and walk throughs and go to the stadium and play the game."
All jokes aside there has been much preparation leading into this game.  For starters the Gators are adjusting to playing in the Mercedes-Benz Superdome. The lighting conditions inside the dome affect punt returns as well as kickoffs. With special teams being one of Florida's strong suits getting adjusted to conditions like lighting is extra important.   Muschamp is not too worried about how kicker Caleb Sturgis will handle it.
"[The] kicking environment for Sturgis is good for us. We can probably be at the 38 yard line and be in range for a 55 yard, 56 yarder, maybe the 40."
Seeing how some of the other bowl games have turned out Muschamp says Florida is focused on the fundamentals.
"The more mature teams that approach it the right way are critical. But you look at tackling, it's going to be an issue in the game.  You go back and look at some of the games you've been sitting there watching on ESPN, and tackling is an issue. Execution on both sides of the ball and special teams…so those are the three things I've talked to our team about that we've gotta do a good job in."
The practices are not just about getting prepared for the game. Bowl practices provide teams the opportunity to work on fundamentals, and for players to make moves up and down the depth charts. Some players with improved play in bowl practices include wide receivers Latroy Pittman and Andre Debose.  With an offense looking for a more vertical passing game it is critical to have receivers stepping up.  On defense,Dante Fowler Jr. has made significant progress; coaches are noticing how he is playing at a higher level.
We'll see if the Gators can play at a high level tonight.