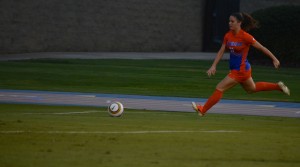 The University Florida Soccer team will clash with Duke in their second round NCAA tournament matchup Friday night. The Gators will travel to Durham to take on the Blue Devils, who were 8-8-5 on the season. Duke came off a close win against Colorado College and will have the advantage of playing on their home field. Even though Florida is on the road, Gators head coach Becky Burleigh feels her team will be able to handle it.
"It's a hard second round game, for sure, but when you're in the NCAA tournament you expect that every team you're going to play is going to be good, but I think our team is really excited to embrace the idea of playing a good team in getting after it."
Burleigh's thoughts seem to indicate Duke's .500 record is not indicative of their level of play. The Blue Devils have 5 players with double-digit points on the season, led by forward Kelly Cobb who has 17.
"I think Duke is really talented. When you look on paper, every player they have is a pretty highly recruited kid, they're really well coached. I've known their coach since I was 18 years old. It's just a fun team to play against, it's even kind of a little bit of a rivalry. Even though we don't play in the same conference or play every year, I feel like every time we play it's a really competitive game."
Florida is coming off a win in their tournament opener, a shutout against Atlantic Sun Conference Champion Jacksonville. Taylor Burke recorded a shutout for the Gators, who got scoring from players who aren't the usual suspects, freshman Meggie Dougherty-Howard and defender Tessa Andujar. Florida will need to rely on secondary scoring throughout the tournament, as midfielder Havana Solaun tore her ACL in the SEC tournament final against Texas A&M. Burleigh says the team will step up in Solaun's absence, and specifically mentioned normally pass-first midfielder Annie Speese. In a meeting earlier in the season, she said Speese took it upon herself to take more shots.
"I think she's really taken that to heart especially with Havana out of the lineup, and it shows on the stat sheet. She had some great opportunities on Saturday [vs. Jacksonville]," said Burleigh.
The Florida-Duke Contest kicks off at 7:30. The winner of the matchup will take on the winner of the St. John's-Arkansas game.
For more Becky Burleigh audio, click the links below.
Burleigh on Annie Speese
Burleigh on Duke
Burleigh on road environment
"