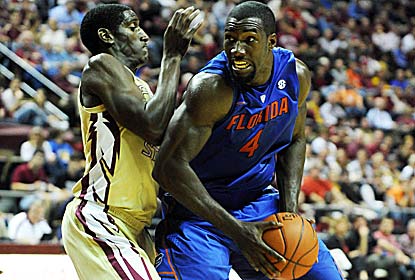 Before Florida and Florida State face-off in Ben Hill Griffin Stadium Saturday afternoon, the two rivalry schools will try to earn some extra bragging rights on the hardwood floor of the O'Connell Center Friday night at 7:30.
The hosting Gators are 5-1 on the year and ranked No. 13 in the Coaches' Poll. UF's only loss came on the road to No. 11 Wisconsin. Florida forward Casey Prather is coming off a 27-point performance against Jacksonville on Monday night, and is averaging 19.2 points per game; his previous game high before this year was just 14. Tonight, it will be his job to match the athleticism of Florida State.
Florida is also glad to have their senior point guard Scottie Wilbekin back who was suspended for the first five games of the season. In his senior-year debut, Wilbekin scored 12 points and also recorded seven assists. With the Gators still without freshman point guard Kasey Hill, Wilbekin' s entry into the starting line-up seemed to be a chemistry spark to their offense, giving Florida some momentum they look to build upon Friday night.
As for the incoming Seminoles, their 5-1 record boasts a win over No. 10 VCU and an overtime loss to No. 14 Michigan. Florida State will look to senior forward Okaro White, who is averaging 14 points and seven rebounds per game to get their high powered offense going early. The Noles are No. 29 in the country at field goal percentage — shooting just over 50 percent over the course of this year.
Florida State is currently unranked, but according to votes they're just on the outside of the Top 25.
The game is set to tip off at 7:30, with doors opening to the public at 6:00. The game will also be broadcasted on ESPN 2 for TV and on Country 103-7 The Gator on radio.