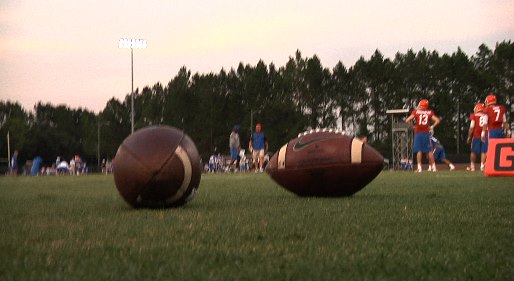 The first week of fall training camp is in the books and the Gator football team opens up the second week of practice today.
The biggest news of Florida's fall camp thus far was the minor injury to sophomore All-American cornerback Vernon Hargreaves III. Florida released a statement from Gators coach Will Muschamp saying Hargreaves is day-to-day with a bone bruise on his left knee but he will be just fine and is receiving treatment.
Starting quarterback Jeff Driskel is looking comfortable and confident in offensive coordinator Kurt Roper's new up-tempo shot-gun spread offense. He's been very consistent with his accuracy and decision making and Roper's scheme seems to be the perfect fit for him. The battle for the backup position is still up for grabs and the competition is still brewing. True freshmen Will Grier and Treon Harris have continued to split reps with the second team along with sophomore Skyler Mornhinweg.
Muschamp added that the process may take a while and the decision may not be determined until the final rep of the final practice. He also mentioned that he's seen a lot of great qualities in Harris and Grier that he admires.
"Those guys have shown some really good things as far as arm talent and poise," he said. "The number one thing that strikes me with both young men is they have a positive way about themselves with the players. I think they call it the "it" factor – as far as how the players respond to them."
Meanwhile, quite a few underclassmen are really stepping up and contributing to the squad. Defensive back J.C. Jackson made some great plays and is proving that he is a physical specimen. Quincy Wilson has also made his presence felt at the cornerback position. He really held his own in contact drills against the receivers and looked great in coverage.
Sophomore wide receiver Demarcus Robinson is another guy who's loaded with talent. He's without a doubt the most consistent Gators receiver with great hands and is turning heads at every practice. On Friday night, he had two touchdown receptions once leaping to catch a ball in the corner of the end zone, then grabbed a second during red zone drills.
Sophomore linebacker Jarrad Davis is also a player to keep an eye out for throughout camp. Davis worked his way into the starting lineup as a true freshman and showed signs of becoming a big time playmaker last year. With his high-motor and relentless attitude he's poised to have a breakout season. Davis said despite arriving at Florida as only a three star prospect, he's ready to make a big impact on his squad.
"Muschamp sat us down in that team meeting the first time we got here and said two star, three star whatever – we don't care," Davis said. "As long as you work hard and go out there and give it your all you can get on this field. So I took what Muschamp said and I went out there and gave it my all."
"I was still shocked because I was a freshman and a young guy," he added. "But hey, they needed somebody and I stepped up and like I said I'm always going to do it for my teammates and go as hard as I can to show what type of guy I am and hopefully motivate them as well."
Florida's center Max Garcia agreed with Davis and indicated that it's the intangible things such as a player's burning desire to succeed that truly makes a team.
"Picking each other up, building each other up, not bringing each other down," he added. "Just really humbling ourselves and realizing that we went 4 and 8 together and that this season is about us staying together, being together because at the day we are all we have – and all we need."
The Gators next open practice will be held on Monday at 8:40 a.m. at Dizney Lacrosse Stadium.
Here's a gallery recapping first week of fall camp:
Jarrad Davis on being a leader
Jarrad Davis on joining starting lineup as a freshman
Max Garcia on team's chemistry