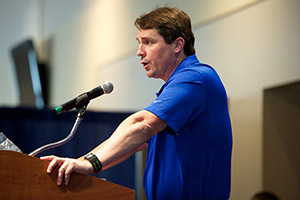 In their season opener against Eastern Michigan, the Gator football team scores 65 points, its highest output since November 22, 2008, when they beat FCS opponent The Citadel 70-19. UF racked up 655 total yards of offense, which is the ninth best mark in program history.
Now the Orange and Blue get their first taste of SEC play this weekend when they take on Kentucky. The Gators have beaten the Wildcats 27 straight times dating back to 1986 but that long win streak doesn't mean much to Florida head coach Will Muschamp.
"It's a 2014 Florida team versus a 2014 Kentucky team," Muschamp said. "That's all it is to me."
Muschamp knows this year's Kentucky Wildcats are much improved.
"Mark Stoops has done an outstanding job there. Much, much improved in all areas in his second year. Neal Brown is offensive coordinator, a guy that I'm very familiar with. They do a nice job in the run and pass game. They're a tempo team. They're going to be on the ball. They're going to play as fast as anybody that we play this year."
Kentucky is 2-0 heading in this match up after blowing out UT-Martin in its home opener, 59-14, and then winning by 17 last week over Ohio. In beating two FBS opponents, Kentucky has averaged 529 yards of total offense behind its 6-foot-5, 240-pound quarterback Patrick Towles, and allowed just 310.5 yards per game. The Cats like to run the ball as they've scored seven touchdowns already this season on the ground.
"They're extremely talented at the running back position. Braylon Heard is a transfer from Nebraska, was hurt in the first game that he had two carries for two touchdowns and about 120 yards," Muschamp added. "Jojo Kemp from DeLand is a dynamic guy in the open field. Stanley Williams is a freshman from Georgia that's a good player. Mikel Horton is a kid from Cincinnati that's a good player. He's a true freshman as well."
In order to stop the Cats rushing attack, Muschamp pointed out that the defense needs to do a better job of "perimeter run defense."
"Defensively I thought that we tackled very well for a first game. We only had six missed tackles which is always a concern going into the first game. Defensively we played a little high at times. I thought our perimeter run defense was poor as far as how we leveraged the ball. We played some perimeter things and screens that we will certainly see this week. That's something that we have to get cleaned up."
On the offensive side of the ball for the Gators, they will look to senior Clay Burton to fill the void at tight end as a result of transfer Jake McGee being out for the season after breaking his tibia and fibula in the opening game. Burton had a career high seven catches against Eastern Michigan. Muschamp commented on Burton's development on Monday.
"He's changed his body a little bit. He's slimmed down. He's quicker than he's been, he's faster than he's been. He worked extremely hard all summer. He hasn't had many drops at all through fall game and working into game week. All those things. He's a player who has done everything we've asked him to do to put himself in a position to be successful, and he certainly was Saturday."
Offensive coordinator Kurt Roper thinks that the offense can play at a quicker pace, despite the fact that the Gators new offense ran 86 plays against Eastern Michigan.
"I think it gets down to our guys understanding giving the ball back to the official, getting lined up in a hurry. Too many times we left the ball on the ground, at the end of a play, where the official has to go get it to spot it. I think we can play faster just looking at those numbers, but again, it's all about making plays."
Gator quarterback Jeff Driskel will be one of the main players responsible for controlling the speed of Roper's up tempo offense and he also knows the importance of starting out SEC play with a win.
"We're really excited to get into the meat of our schedule. Obviously, Kentucky is in the [SEC] East and that's a big game for us. We want to win every East game, just like every other game. It's one we need in order to have a good year we're going to have to win this game, so we're going to do everything in our power to do so."
Florida will get the chance to go for 28 consecutive wins against Kentucky on Saturday when they welcome the Wildcats to The Swamp.
Kickoff is scheduled for 7:30, but catch pre-game coverage on ESPN 850 WRUF beginning at 3:30.
For audio of the above quotes, click below:
Muschamp on how improved Kentucky is under head coach Mark Stoops
Muschamp on how talented Kentucky's running backs are
Muschamp on defensive concerns
Muschamp on Clay Burton's development
Roper on how offense can play at a faster tempo
Driskel on the importance of SEC play