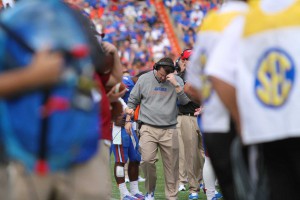 According to several media reports and ESPN 850 WRUF sources, Florida football coach Will Muschamp has been fired.
Sports Illustrated's Andy Staples first reported the firing.
There has been no official announcement confirming this from anyone at the University Athletic Association as of yet.
ESPN is reporting that Muschamp will coach Florida until the end of the year and then step down but that also has not been confirmed officially.
After winning two straight games, Florida lost 23-20 in overtime to South Carolina on Saturday, eliminating them from the SEC East race.   Additionally, Florida is now 2-6 in its last eight games in The Swamp.
Update 1:10 p.m.: The University Athletic Association has released official statements from Athletic Director Jeremy Foley:
"Upon evaluation of our football program, we are not where the program needs to be and should be. I've always said that our goal at the University of Florida is to compete for championships on a regular basis," Foley said. "Coach Muschamp was dedicated to developing young men both on and off the field. Our student-athletes showed tremendous growth socially and academically under his leadership. His players were involved in campus activities, engaged with the local community and represented the University of Florida with pride.

"I will be forever grateful to Will and his staff for their unwavering commitment to the University of Florida and the mission of our athletic program. He will be missed by everyone in our athletic department – from the people that worked in his office to the people that painted the fields. Will knew everyone and they knew him and everyone in the building loved working with him. Will is as fine a man as you will ever meet, and I will always cherish our relationship with him and his family."
Will Muschamp also provided a comment in the UAA's release:
"I appreciate the opportunity that has been offered to me and my family by Dr. Machen, Jeremy Foley and the University of Florida. I was given every opportunity to get it done here and I simply didn't win enough games – that is the bottom line. I'm disappointed that I didn't get it done and it is my responsibility to get it done.

"I have no bitter feelings, but this is a business and I wish we would have produced better results on the field. We have a great group of players and a staff that is committed to this University and this football program. They have handled themselves with class and I expect them to continue to do so. As I've said many times, life is 10 percent of what happens to you and 90 percent how you respond."
The football team was expected to meet at 1 p.m., according to sources within the program.