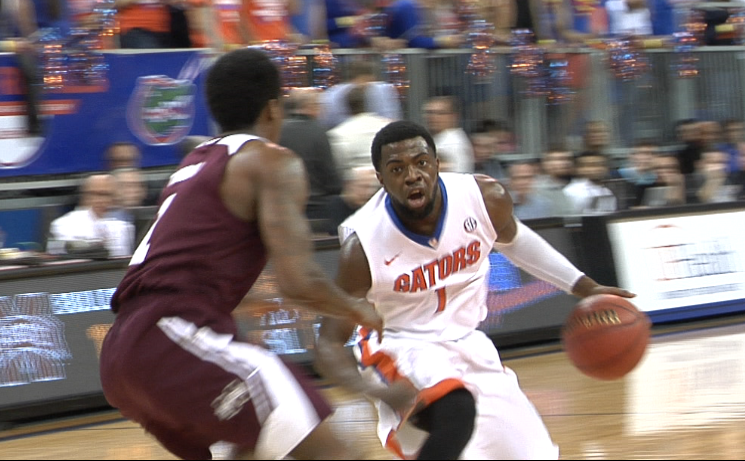 Eli Carter scored 20 points off the bench as the Florida men's basketball team blew out the Mississippi State Bulldogs 72-47 on Saturday night.
The Gators improve to 2-0 in conference play, 9-6 on the season.
It was Carter's first double-digit scoring outing since November 17th against Miami in the second game of the season. He shot 6-for-8 from the floor including 4-for-6 from behind the arc.
"Eli Carter's shot chart over his career looks like an EKG exam," Florida head coach Billy Donovan joked. "This was a game where his shots were going in and it's always easy to be engaged in a game when you're making shots or it's going well offensively for you and I'm trying to him over and through that he's a smart player."
Junior forward Dorian Finney-Smith continued his consistent play. He added 16 points on 7-for-11 shooting, with six rebounds and two blocks.
Florida managed to get the job done without the services of Jon Horford and with an ill Michael Frazier II on the floor, who has been battling strep throat the past few days.
The Gators were clicking together offensively, notching 19 assists on 28 made field goals. Despite a 29-point lead with just under 11 minutes left in the game, Donovan knew his squad was not in a position to take their foot off the pedal.
"There's a human element (of) wanting to play and be in a comfort zone and this team cannot play in a comfort zone," Donovan said. "We're not talented enough, we're not deep enough, we're not physical enough, we're not strong enough."
"We need to play with incredible passion and desire and for each other and become a team. If we don't do that, we're below average," Donovan added.
Florida handled the ball with care, committing only seven turnovers while forcing 15 Mississippi State turnovers. One game after Kasey Hill had six turnovers and only one assist against South Carolina, the point guard had seven assists and just one turnover against the Bulldogs.
"We are not going to be able to out-talent people," Donovan reiterated. "We got to become a really good team. It's got to be a team that its sum is greater than its parts. And their focus needs to be not 'How I am doing' but 'How do I make the other four guys around me better? How do I make my teammates better?'"
Looking ahead, the Gators will hope to continue their conference success when they host the Auburn Tigers (9-6, 1-1) on Thursday night.
To listen to the quotes from the story, click below:
Donovan says the team is better as a whole than the sum of its parts
Donovan says he was proud of Carter and his contributions
Donovan says the team has to play together in order to win