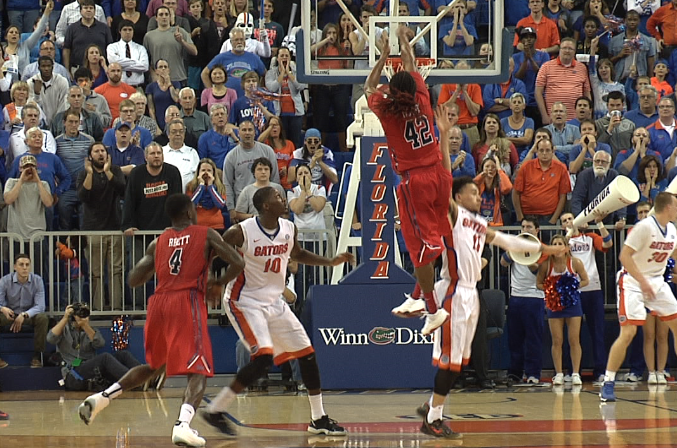 Ole Miss guard Stefan Moody joined Miami's Angel Rodriguez and Georgetown's D'Vauntes Smith-Rivera on a special list Thursday night.
All three players have drained game-winning jumpers to beat the Florida Gators this season.
Moody drained a long-distance three-pointer over Chris Chiozza with 2.7 seconds remaining to beat Florida 62-61.
The shot dropped the Gators to 12-12 on the season and to 5-6 in the conference.
"That was really the difference in the game," said Florida head coach Billy Donovan. "It was a great defensive stance by us… (Ole Miss) threw it to (Moody), he took one step, and he just bombed in a shot. And that was the difference in the game so give him credit for knocking down a big shot when his team needed it."
Moody finished with a game-high 18 points on 5-for-10 shooting from the floor. Ladarius "Snoop" White scored 16 points to help hand the Gators their third straight loss.
With Michael Frazier II sidelined with a high ankle sprain, the Gators were led by the efforts of Devin Robinson and Dorian Finney-Smith.
Robinson stuffed the stat sheet with 14 points, seven rebounds, three assists, and two blocks in a starting role. Finney-Smith posted similar numbers with  14 points, six rebounds, and two blocks.
"You know, I was proud. I thought we tried to do the right things, I thought we tried to play together, I thought we tried to play with some energy and passion, we did some good things, we did some positive things," Donovan said.
Florida struggled once again shooting the ball, going only 23-for-61 from the floor (37.7%). The backcourt of Kasey Hill, Eli Carter, and Chris Chiozza combined to shoot 7-for-25 (28%).
"We weren't moving well enough, we weren't helping each other, relying on each other, and it was almost like everyone was waiting for somebody to go make a play instead of trying to make the play collectively as a group," Donovan added.
With Florida falling to their second three-game conference losing streak already this season, it leaves many fans wondering if this team can make a case it should be in the NIT  at the end of the year, much less the NCAA Tournament.
"I was really concerned going into this season just knowing what I knew but this team will have a very hard time just to have a winning record this year," admitted Donovan.
Florida has little time to worry about this game as it travels to play Texas A&M on Saturday; live coverage is on Country 103-7 The Gator at 5:55 pm.
To listen to audio from the story, click below:
Donovan's reaction to Moody's game-winning shot
Donovan says he was pleased with the team's effort despite the loss
Donovan on the team's offensive struggles down the stretch
Donovan gives an honest outlook on the season ahead
Donovan says he's not a real believer in confidence issues