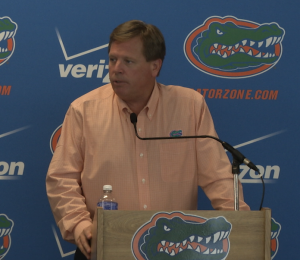 After a passionate post game press conference following the Gators 31-24 victory over ECU, Florida head coach Jim McElwain was quick to admit that he went a little too far.
McElwain's sideline tirade directed toward running back Kelvin Taylor went viral and has had sports talking heads around the country weighing in on the Gator head man. The one voice McElwain heard that really made an impact was from his mother.
"It's one of those things I have got to learn from, there's no doubt about it," McElwain said. "I'm not proud of it, and neither is my mother. At 94 years old, I got an ear full from her too, and rightfully so."
McElwain also mentioned during that post game presser that Taylor's actions would be dealt with later and consequences would surely follow. Those consequences seem to be Taylor's depth chart demotion as he has been moved down to third string for this week behind two true freshmen in Jordan Cronkrite and Jordan Scarlett. Similar to last week when wide receiver Demarcus Robinson found himself down the depth chart at the beginning of the week, Taylor will still play against Kentucky.
To take away from McElwain, let's "rip off the rear view mirror and move forward." The Gators will hit the road for the first time this season as they travel to take on the Kentucky Wildcats. The Gators will need their offense in Lexington, and McElwain is pleased thus far, but needs to see more.
"I think we're still finding ourselves offensively, and yet, I go back to my original statement, I was really impressed with how hard they're playing," McElwain noted.
The Wildcats are coming off a big 26-22 road win against the South Carolina Gamecocks where they surrendered over 400 yards of offense. Although that number may seem high, McElwain is still impressed with what Kentucky can do on that defensive side of the ball.
"They do a really good job defensively," McElwain stated. "As far as getting up there and giving you some different looks and mugging the backers up and causing you to really be on your game."
Kentucky is led by junior quarterback Patrick Towles, who in two games this season has thrown for close to 450 yards, three touchdowns and two interceptions. McElwain expects the defense to be tested by Towles in this one.
"The quarterback has a real command on what he's doing and his numbers and efficiency show that, especially after you see what he did last week," McElwain said.
The Gators are riding a 28 game winning streak against the Wildcats, McElwain and the Gators will try to continue that streak starting on Saturday night at 7:30. One thing's for sure, this isn't your father's Kentucky team and the Wildcats will be hungry in their first SEC home game of the season.