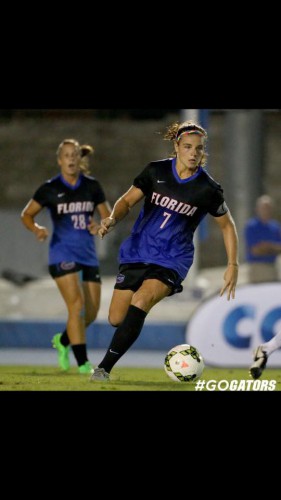 The sixth ranked Florida Gator soccer team will finish up the regular season on the road when they take on Georgia Thursday night. A win for the Gators would give them their 14th SEC league title, while a win for the Bulldogs would keep their SEC Tournament hopes alive.
The Gators are currently tied for first in the SEC with Missouri; both teams have a 7-2-1 league records. Mississippi is one point behind Florida and Missouri in the standings with a 7-3 conference record.
Florida is coming off two big wins over conference opponents last week. They defeated South Carolina 2-1 in double overtime last Thursday on Liz Slattery's time expiring goal. Then on Sunday the Gators would have an easier win as they recorded their third shutout of the season with a 4-0 win over Arkansas.
Georgia is coming off a pair of wins as well defeating Vandy 3-1 and upsetting 16th ranked Auburn 1-0. The Bulldogs are 4-3 over their last seven matches with four of those games decided by a single goal.
The last time these two teams met was last season for Florida's SEC home opener. The Gators came away with a 2-1 win over then number 22 Georgia. Savannah Jordan scored the game-winning goal in the second half to seal the win. Florida owns the all-time series 26-2-1, but five of the last 10 matches have been decided by a single goal with two of those being decided in overtime.
This is the last regular season game before the start of the SEC tournament on November 2nd. Gator head coach Becky Burleigh is just focused on the upcoming match though not the tournament.
"I don't even really want to be thinking about the SEC tournament at this time because we have an important one on Thursday and the reason it's an important one is because it's the next one."
Match time from the UGA Soccer Stadium is set for 7 p.m. but you can tune into ESPN Gainesville 95.3/850 at 6:50 p.m. to hear Adam Schick's live call of the match.
To hear sound from Florida Head Coach Becky Burleigh click below: