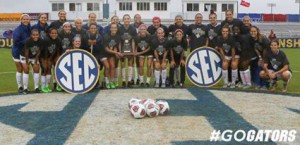 The Florida Gator soccer team is the 2015 SEC Tournament champion after defeating defending champ Texas A&M 2-1 Sunday afternoon. This is the 11th title the Gators have won in 16 appearances.
With this win Florida automatically clinches a berth in the NCAA tournament, which will be their 19th appearance in the 21 years the tournament has been around.
All three goals came in the first half with the Aggies striking first. In the 22nd minute Emily Bates sent a cross to Haley Pounds who fired a left-footed shot that found the back of the net giving Texas A&M the early 1-0 lead.
Florida would tie things up in the 29th minute off of a corner kick. Brooke Sharp scored a right-legged volley off the corner for her 11th goal of the season to make things even at one. Sharp only had five career goals before this season (1 in 2013, 4 in 2014).
The go-ahead goal for the Gators would come in the 43rd minute. Florida was awarded a free kick after Meggie Doughtery Howard was fouled just outside the box. Christen Westphal took the kick and scored from 20 yards out to put the Orange and Blue ahead. This was Westphal's second straight game with a free kick goal and only her third of the entire season.
Westphal was also named the SEC Tournament MVP; this is the 13th time a Gator has won the award. Four Gators appeared on the SEC All-Tournament team- Meggie Doughtery Howard, Claire Falknor, Savannah Jordan, and Christen Westphal.
Up next for the Gators is the NCAA Tournament. The entire 64 team field is released on November 9th at 4:30 p.m on NCAA.com.