The 1972-73 Philadelphia 76ers are known historically as the NBA's worst team, with an overall record of 9-73.
Today's 76ers are currently dead last in the NBA, after losing the first 18 games of the season. If you include the 10 straight defeats that closed out 2014, Philadelphia has now surpassed their own record of 26 overall losses and extended the streak to 28 games.
The 1972 76ers may lose their place in history after 42 years of being the NBA's worst.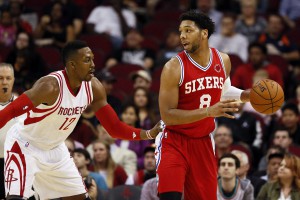 On the other side of the spectrum, the 1972 Los Angeles Lakers hold the record for consecutive wins: 33. And, to make the feat even more impressive, the Lakers did all of their winning in one season.
This season, fresh off of their NBA Championship, the Golden State Warriors are chasing LA's record.
At 19-0, Golden State has toppled the NBA's previous best regular-season start of 16-0. They've won 22 consecutive games, despite losing their injured head coach, Steve Kerr, to a spinal fluid leak in the offseason.
While the Sixers have been accused of tanking entire seasons for draft picks, the Warriors find a way to keep amazing us all.
All eyes remain on the NBA's defending MVP, Steph Curry, but the Warriors are winning because of smart basketball and a complete belief in their team's system. Even under interim head coach Luke Walton, Golden State finds a way to keep up with and outpace every opponent they face.
Only time will tell if history will be rewritten, but as it stands, this year's Sixers and Warriors may both go down in the record books.