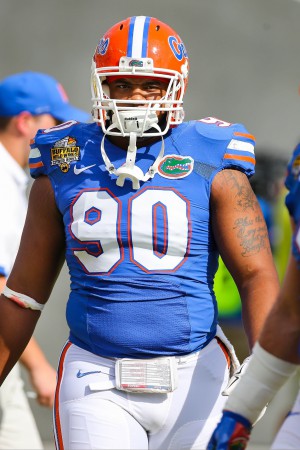 The University of Florida's indoor practice facility saw a ton of action Tuesday as they hosted their annual pro day from 9:30 a.m. till 12:30 p.m. Among the Gators at pro day were former defensive lineman, Jonathan Bullard. The 6'3 285 pound lineman played his final season as a Gator this past season. Many thought Bullard would head to the draft after an outstanding junior year but, he stayed with his team, started in all 14 games his senior year, and was named captain by his teammates in 2015. He led the team with 17.5 tackles-for-loss, the most by a Gator since Alex Brown in 1999, accompanied by 6.5 sacks. Bullard says his decision to stay at Florida for his senior year was easy once the NFL told him he wasn't quite ready.
Staying that extra year looked like it paid off today. He showcased his skills, versatility and work ethic to all 70 scouts from the 32 NFL teams, with hopes to be drafted come late April. Bullard says he felt good about his performance at pro day and has been working hard to stay in shape. The former Gator has been practicing and working out with the combine, UF staff and coaches, as well as other teammates who attended pro day. He says he wasn't nervous or concerned coming into today, because it's just second nature to him.
Florida had a defense that landed in the top ten for the 2015 season. The Gators will head into their 2016 season not only losing Bullard, but they'll also be without corner back Vernon Hargreaves, defensive lineman Alex McCalister, linebacker Antonio Morrison and defensive back Brian Poole. However, big number 90 has high hopes for his college team, he says he thinks the Gator defense will remain strong and maybe even have a better season than they did last year.
Bullard had plans to meet with NFL teams immediately after performing at pro day, no word yet on what teams he'll be speaking with. The 2016 NFL Draft is set to begin April 28 and end April 30.