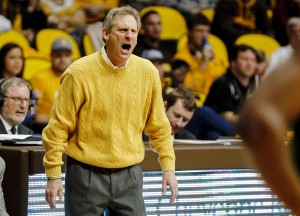 Former Assistant Gator Men's Basketball coach Larry Shyatt resigned from his job at University of Wyoming today. Shyatt began a head coaching position at Wyoming in the late 90's (1997-1998). After his short time there, he landed a head coaching position at Clemson from 1998-2003. When he left Clemson, Shyatt made his way to the University of Florida to coach alongside Billy Donovan, he spent 7 (2004-2011) years with the Gators as an assistant coach before going back to Wyoming. In his 2014-2015 season with the Wyoming Cowboys he reached his first NCAA tournament as a head coach, and led his team to a championship in the Mountain West Conference tournament. Shyatt leaves his college basketball coaching career with an all time record of 187-162.
Former Florida Gator assistant coach says his reason for resigning was more about his staff than himself. Shyatt thinks he has a phenomenal team of people at Wyoming that he feels comfortable leaving behind to fill in his position. He feels so confident about his decision that he says even the guys on the team are okay with his decision and love the staff. Shyatt didn't want people to feel like he was running off when it was only good times so his decision to resign came at just the right time for himself and his coaching staff.
He says he's not sure exactly what's in his future but coaching is not completely out of the question.