Kobe Bryant will be wrapping up his farewell tour in the final game of his career tonight. The Lakers have decorated the Staples Center in order to support the occasion what is being called "Mamba Day."
8 & 24 on the floor #ThankYouKobe pic.twitter.com/j4B3W88Y5L

— Los Angeles Lakers (@Lakers) April 13, 2016
.@STAPLESCenter, you're lookin' good #ThankYouKobepic.twitter.com/0YD4lPji5b

— Los Angeles Lakers (@Lakers) April 13, 2016
Bryant will be ready for his last performance in front of the home crowd and looking forward to playing on the NBA court.
Many NBA legends have given their thoughts on Kobe.
1998: Number 8 could do it all. I knew he was poised for greatness! #KB20 #Lakers
Walter Iooss Jr/SI pic.twitter.com/xC1WP5lxOH

— Earvin Magic Johnson (@MagicJohnson) April 12, 2016
Lakers legend and NBA's all-time leading scorer chimed in saying Kobe has reached legendary status.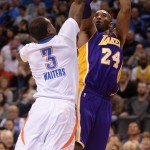 The 18 time All-Star has earned every bit of praise from other NBA greats. Bryant won five championships, two-time finals MVP, 2008 NBA MVP, 12 time All-Defensive team, 15 time All-NBA selection. Those were a small sample size of Kobe's long list of accomplishments during his time with the Lakers.
37-year-old Kobe Bryant will retire as the third all-time scorer in NBA history and is first and only player to play 20 seasons with one team.
"I've grown up in front of this crowd from the age of 17," Bryant said. "A lot of faces that I saw in the crowd in my very first game are still here."
The beginning of the end for Kobe Bryant will start at 10:30 p.m. at the Staple Center in Los Angeles and can be seen on ESPN2.