The Florida Gators women's tennis team, led by head coach Roland Thornqvist, continues its winning ways.
it just went FINAL!!

Brooke Austin wins the tiebreak and her match – which is the clincher tonight!

Gators win 4-3 pic.twitter.com/2wSV4VmYWH

— Gator Women's Tennis (@GatorsWTN) March 25, 2017
The No. 1 ranked team in the nation secured two road victories this weekend against Arkansas and Missouri. The team is now 16-1 this season.
Gators defeat Missouri 4-0#GoGators pic.twitter.com/WgzXfEqZrR

— Gator Women's Tennis (@GatorsWTN) March 26, 2017
Gators Win at Arkansas
Firstly, the team would begin their road weekend with a match at Arkansas.They would come out on top after an exciting 4-3 victory from Fayetteville on Friday.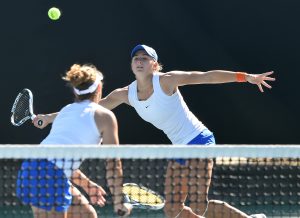 This match was one that Thornqvist describes as the team simply being able to escape.He credits the victory to the focus from junior Brooke Austin in the tie-breaker round of the last singles match.She would face Arkansas' Giulia Pairone, with the final score being 6-4, 1-6, and 7-6 to close the match.
This match at Arkansas will be remembered in the history books for one player.
Belinda Woolcock would secure singles victory no. 99 in her career against Arkansas last weekend. Her win would come after getting the tie-breaker in set three (6-4 and 7-6), stamping her place in history.
Woolcock was closing in on win no. 100, which would make her the first to do so since former player Brianna Morgan reached the mark last season.
Victories for the Gators would also include those from Josie Kuhlman (6-1 and 6-3), as she defeated the Razorbacks' Leolia Jeanjean.
Momentum Continues in Missouri
The road trip was far from over for the team. The next obstacle in remaining the standard in NCAA Women's Tennis this year were the Missouri Tigers.
The Gators would extend their streak to three wins, now 16-1 on the season.This game would be a little easier for the team, scoring a 4-0 victory in Columbia, MO.
Secondly, this game would see more history being made. Woolcock secured win no. 100 in her career on Sunday.
Congrats to Belinda Woolcock, who won her 100th career singles match!https://t.co/Hn8RT1ZCt5#GoGators pic.twitter.com/OUa0Ixqk2h

— Gator Women's Tennis (@GatorsWTN) March 27, 2017
Woolcock would pair with Kuhlman to defeat Missouri's Clare Raley and Kadi Fauble, 6-2. The senior would also secure a singles victory, 6-1 and 7-6, against Bea Machado Santos.
She now joins Morgan on the list of players to reach 100 total wins in their collegiate careers.
Other players with impressive performances for Florida included a 6-2, 6-2 win for Anna Danillina and a 2-2 match, which did not finish, from Spencer Liang.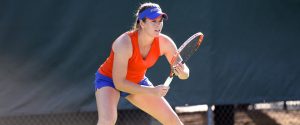 Looking Ahead
The team now looks ahead to a showdown with Alabama on Mar. 31.
Matchday for the Gators against Alabama is set to start at 5 p.m. This game serves as the start of a four-game home stretch in Gainesville, which is welcomed by Thornqvist.
This home stretch will feature important games against Auburn, Mississippi State, and Ole Miss.
Follow the team on Twitter for more updates and the Florida Gators website for game day information and live updates on each match.