CFBHOF_01
Photo courtesy of UAA Communications & FloridaGators.com.
About Sophie Goodwin
Sophie is a telecommunications major graduating in Summer 2022. She works as a host & Edutainer at ITProTV, and as a student producer, writer, voice, & sports coordinator for ESPN Gainesville. She is also a voice actor independently for various clients on a national level.
Check Also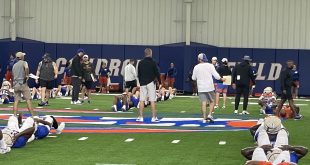 The Florida Gator football team had its first scrimmage of fall camp on Saturday. However, …