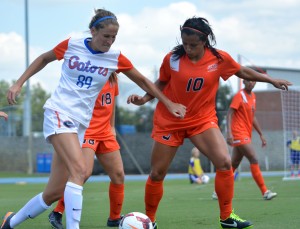 It was a showdown of the SEC's top two teams. It was senior day at Pressly Stadium. It went exactly as advertised. The Florida Gator soccer team clashed with the Texas A&M Aggies in Gainesville on a sunny Sunday afternoon, and they came out on top with their sixth straight victory. Florida won by a score of 2-0 thanks to goals from Savannah Jordan.
The Aggies and Gators put pressure on each other early on, with each side stringing together quick passes, making it a fast-paced match in the process. Each goalkeeper was tested by a few shots early on, but both the Aggies' Jordan Day and the Gators' Taylor Burke held their opponents off the scoreboard throughout the first half. But in the end it was Burke who earned the shutout. She commended her defense for sticking with a quick Aggie team.
Burke on the Quick A&M offense
In the first three minutes each team created a scoring chance, with Florida's freshman phenom Savannah Jordan aiming for the far post against Day, but she was denied. Moments later Taylor Burke was faced with a near post shot from Texas A&M but ripped the ball out of the air with a great save.
Jordan wasn't finished, though. She broke through for the Gators with 40 minutes to go breaking in on Day. The initial shot from Jordan was saved by Day, but Day allowed a juicy rebound and Jordan was able to pounce, giving Florida the first goal of the match. Jordan said that goal in the second half was a big step in getting rid of the early jitters.
Jordan: "We just needed to settle down"
Jordan scored her second goal Sunday, her third in two matches, off of a counter from Florida. Gator defender Christen Westphal forced Aggies forward Bianca Brinson to turn the ball over. Westphal dribbled the ball up the left side and put a ball between two A&M defenders that Jordan tucked in the back of the net. Florida head coach Becky Burleigh says she admired the pass from Westphal.
Burleigh on the Westphal assist, Jordan Goal
The win gives Florida a share of the SEC lead between them and the Aggies. Each team now has 24 points in the standings. The Gators final scheduled conference contest before the SEC tournament comes on Halloween night when they head to Athens to play Georgia. Burleigh says the team heads into that matchup with a focus.
A win against Georgia would give Florida the SEC regular season championship because it owns the head-to-head tiebreaker against Texas A&M from Sunday's match.