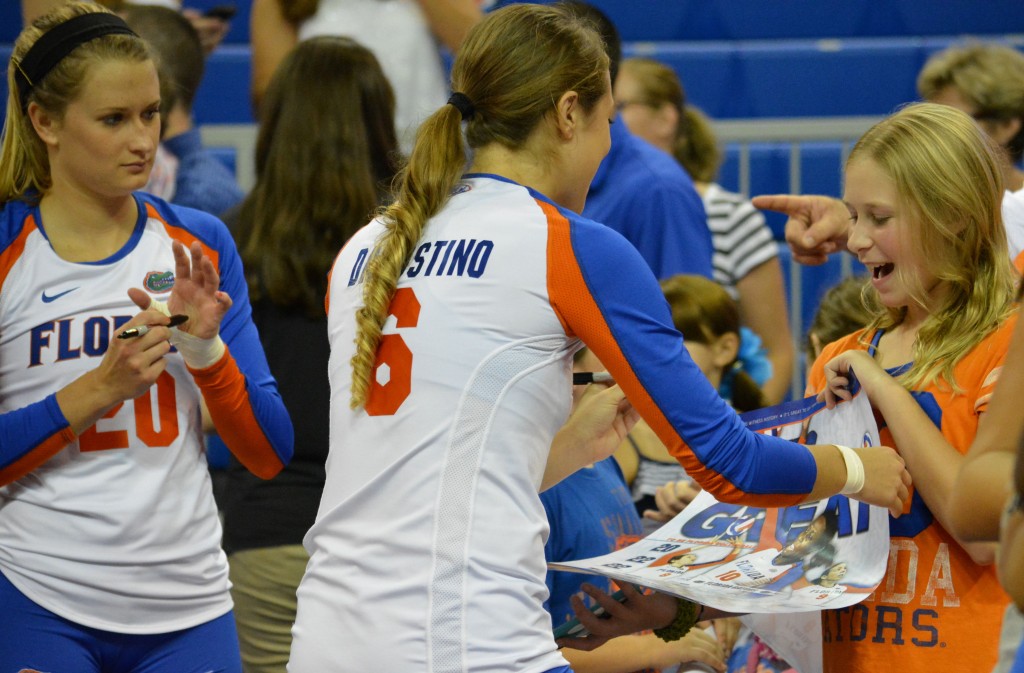 The Florida Gator volleyball team got back to form Friday night after a 3-0 rout of Auburn in the O'Connell Center (25-21, 25, 16, 25-12). The Gators moved to 19-2 on the year while the Tigers fell to 12-8.
It was a shaky start for fifth ranked Florida as Auburn came out and fought for every point, just like UF head coach Mary Wise said they would. The Tigers kept it close with a late service run from Chelsea Wintzinger, but in a race to 25, the Gators just edged out Auburn 25-21 in the first set.
Florida head coach Mary Wise compared her team's slow start to a basketball team getting open looks, but just not hitting their shots.
"In the first set, we really just had a hard time getting on track offensively," said Wise. "It was like basketball team that had wide open shots, and everybody in the area thought the ball was going in. You're used to the ball going in, and we clanked it off the backboard. It was just a little bit out of sync. Maybe pressing too hard, a little bit, but the defense was the mainstay tonight."
As the game went on, the Gators took control as they normally do. Auburn took their opportunities where they were given, but Florida seemed to be on the right end of most of the long rallies on Friday night — something teams need to have to win close games. UF outside hitter Ziva Recek said her team's play started warming up when the team served well.
"We just put on pressure with our serving. That's what we were really working on all weekend. That's what would put them out of system, and that made it easier for our defense," said Recek. "We just worked on serving aggressively and not making a lot of errors."
UF sophomore setter Mackenzie Dagostino set up the last few points of the match for her team, including getting the last kill of the third set herself. After the game, Dagostino credited Auburn's libero and the job she did to keep the Gators working all night.
"Their libero was all over the place; she's a great player. She did a really good job of covering the court and hiding the players that had trouble playing us on defense," said Dagostino. "I think by the end of, we found our shots, were able to get back in our grove and back in our zone."
Florida's next match is a home game versus Tennessee. The Volunteers are 9-13 on the season, but are coming off a road win at South Carolina Friday. Wise says she expects the same kind of great play from Tennessee's libero, and the Gators will be victorious if they can stay patient.
"The 1-2, Auburn-Tennessee liberos are two of the best in the league. Tennessee's libero is coming to town, and she's going to make those digs. We just have to stay patient offensively," said. Wise.
The match between Florida and Tennessee is set for Sunday at 1:30 in the O'Connell Center, and can be heard on ESPN 850 WRUF.
For audio on the quotes above, click here: