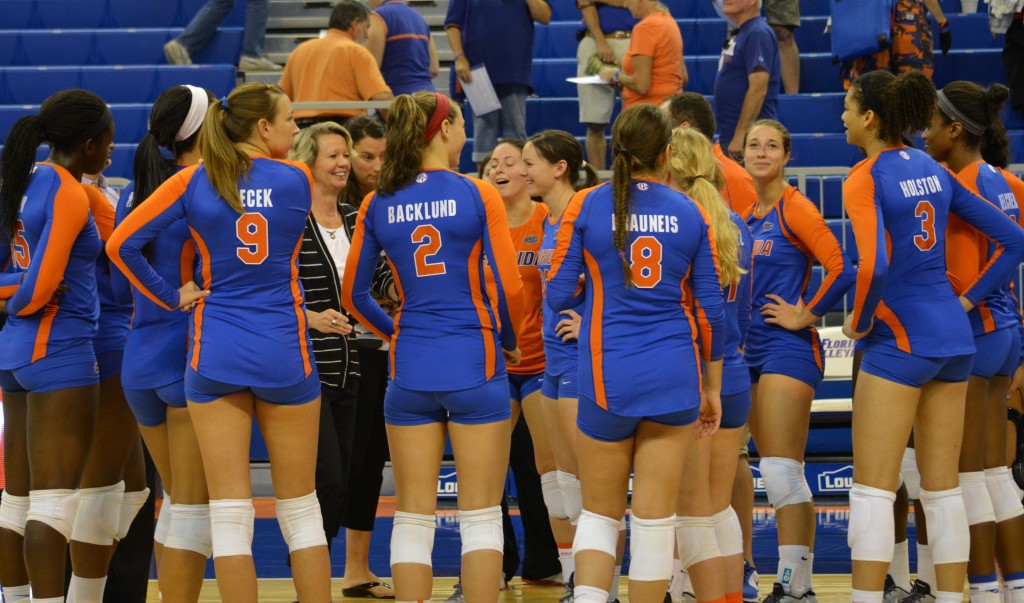 The Florida Gator volleyball team made quick work of the Tennessee Volunteers Sunday, sweeping the match 3-0 (25-13, 25-21, 25-15). The victory was Florida's first over Tennessee in three seasons.
Despite the sweep, Gator head coach Mary Wise believes the Volunteers challenged Florida.
"They're a team that historically plays very well here in the O-dome, as they did today," Wise said.  "The fact that they were able to get the ball to their middles, and their middles were very productive, it wasn't until we got into a couple of good serving runs and keep the ball away from their middles that we were allowed to run point."
Tennessee played exceptionally well in the second set, where they led by as many as six points before the Gators came back to win it narrowly.
"They elevated our game," said Wise. "They played very well and made us play better, and so I thought the second set was very good volleyball by both teams and we got better from that."
The Gators were led statistically by outside hitter Ziva Recek, who recorded 14 kills and three blocks in the match. Recek's performance may have been the most important thing to come from the sweep, as she had struggled in Florida's last couple of matches. Wise praised Recek's effort after the contest.
"The biggest difference is that she just stayed patient," Wise said.  "And it's not lack of effort, it's not lack of doing everything she possibly can for this team, she just was a little impatient trying to do more (in previous matches). What you saw today was, they talk about letting the game come to you, that's really what she did today."
Florida also got key contributions from outside hitters Gabby Mallette and Alex Holston, both of whom tallied nine kills.
Next up for the Gators is a road trip to Baton Rouge, where they will face the LSU Tigers on Friday.  Coverage of the match begins on ESPN 850 WRUF at 7:50.
To hear coach Wise's comments, click below: