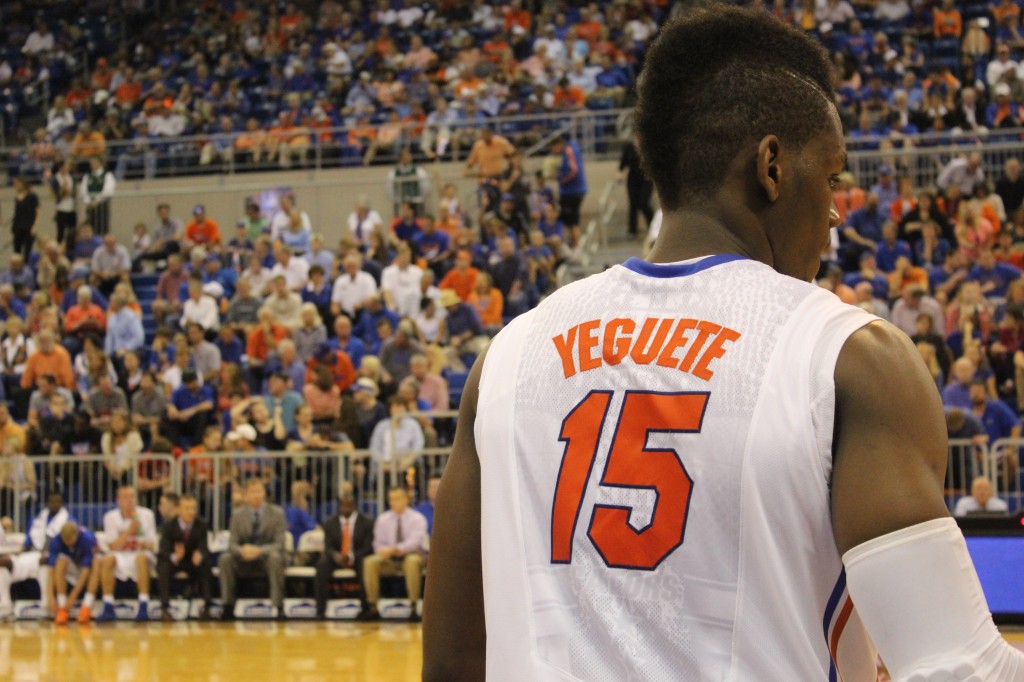 After winning its home opener versus UNF last friday, the Florida men's basketball team will travel to Madison, Wisconsin to face the 20th ranked Badgers Tuesday night at 9 pm.
UF leads the all-time series against UW 2-1 including a 74-56 victory in Gainesville last year.
Despite getting a win against UNF, Gators head coach Billy Donovan was not happy with the mindset or effort from his players during the game. On Monday, Donovan was more calm than he was following Friday's game, but his message was still the same.
"If we play like we did Friday, we have no shot," Donovan said.
Part of what Donovan was referencing was the Gators lack of defensive efficiency. Florida gave up 24 three-point attempts to UNF as well as 30 attempts in their exhibition game to Florida Southern just a week earlier. The Badgers took 23 three-point shots in their lone regular season game versus St. John's and shot 47 percent on those attempts. The Badgers love to stretch the floor, sometimes playing four guards at one time.
The Gators will once again be without their three suspended players, Scottie Wilbekin, Dorian Finney-Smith and Damontre Harris, which may force Donovan to settle for a few less than desirable lineups for extended periods of time. Coach Donovan knows focusing on foul trouble can lead to weak defensive efforts, something the Gators cannot afford to display against Wisconsin.
"Obviously for us depth is going to be a challenge going into the game, and we'll have to be smart and try to protect guys," said Donovan. "You can go in there–to any game–trying to stay out of foul trouble, and if you do that, what happens is you become very weak defensively."
In last year's matchup between Florida and Wisconsin, Gators forward Erik Murphy went 10-for-10 from the field with 24 points, however, Murphy–along with the other top two scorers from last year–will not be with UF this time around. That leaves Patric Young as a player to set the tone and control the inside. Young had just two points and two rebounds against UNF, and Donovan said Young's stat-sheet struggles were not all his fault.
"I thought our backcourt people put him a lot of bad situations," Donovan said. "Listen, there's times where guys make mistakes and poor decisions on fouls, but one of Pat's fouls got picked up on when one of our guards did a bad job on pick-and-roll coverage."
The Badgers will look to even up the all-time series versus Florida as well as the home-and-home series they started last year.
When asked about expectations going into Tuesday night's game, Donovan simply replied that he has to evaluate his team as they are and what they could look like going forward.
"I think this time of year, I don't really go through whether we're ready or not ready. I look at it a lot more of, this is the game that's in front of us right now, and going through a game like this we're going to find out where we're at and where we need to get better," Donovan said.
Country 103-7 The Gator has live coverage of the game starting at 8:25pm.
For audio on the quotes above, click here: