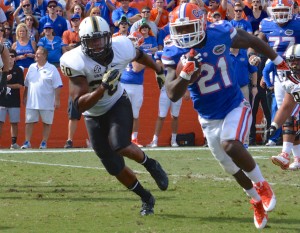 Freshman running back Kelvin Taylor totes the ball for the Gators.
After a close loss to South Carolina in the Florida football team's last game, offensive coordinator Brent Pease saw a mixture of good and bad from his squad over the weekend. A Florida offense that was ravaged by injuries was able to hang 14 points on the Gamecocks in the first half, but weren't able to tack on any more, as they fell to a South Carolina team that dealt Florida a fifth consecutive loss. Florida quarterback Skyler Mornhinweg made his first collegiate start last Saturday night in that matchup, and Pease said he's still getting used to everything. He thinks Mornhinweg is still in the process of getting in the right frame of mind to be quarterback
"He's pretty laid back, I still think when you're a freshman you have a sense that it's hard to step out of your shell a little bit and be vocal with guys, especially bigger and older guys, but sometimes being the quarterback you need to do that and take charge," he said.
Pease used an extremely run-heavy attack during the South Carolina game. Mornhinweg was only called on to pass the ball 13 times in the entire game, and Pease said the heavy running attack was very much improvised throughout the game.
"We usually have a script that we work off of, but this week we had a menu of plays, we would pick and choose and see depending on down and distance if it would fit what we're doing. It was different than what we did in the past."
Florida will try to avoid a sixth straight loss when the team hosts Georgia Southern Saturday at Ben Hill Griffin Stadium. Mornhinweg looks to be getting the nod at quarterback again, and freshman Kelvin Taylor will get the start at running back. Pease wants his team to play with more of an edge, and he feels the offense has yet to reach its potential .
"We have to believe that we haven't really accomplished what we want to accomplish," Pease said.  "We need to go out and still execute and perform and do what we need to do to win the game."
Kick off against Georgia Southern is at 2 PM, and ESPN 850 WRUF has pregame coverage starting at 10AM.
For more quotes from Brent Pease, click the links below.
Pease on Mornhinweg
Pease on Carolina playcalling
Pease on execution
Pease on Kelvin Taylor starting
Pease on Tyler Murphy's shoulder