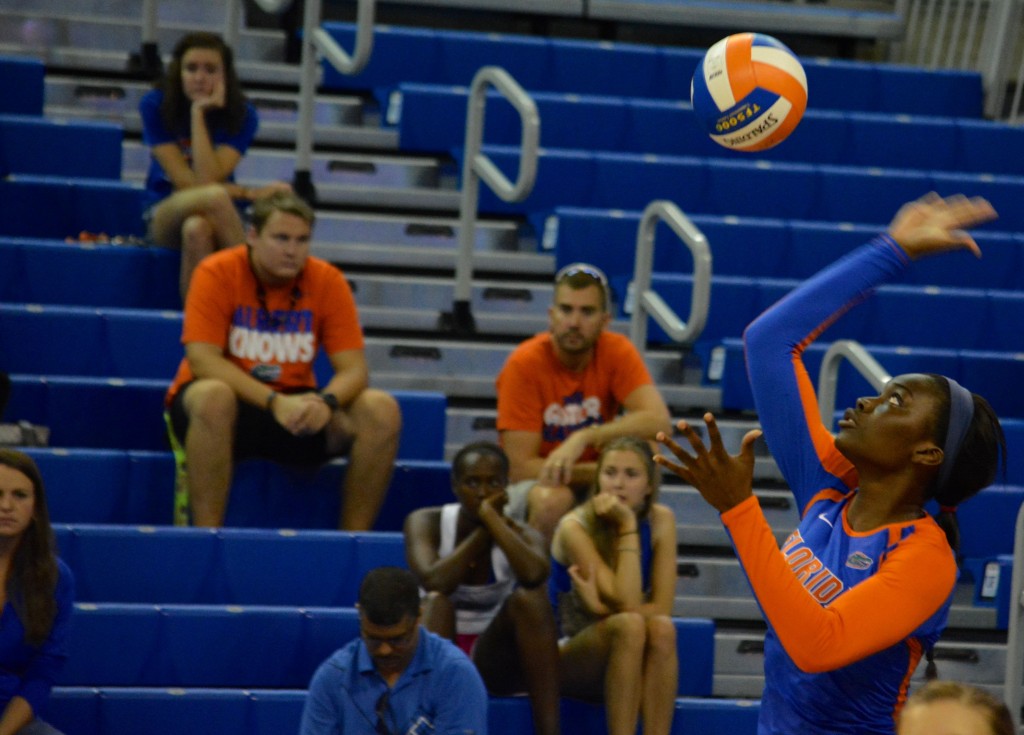 The No.7 ranked Florida Gators extended their streak of at least 25 wins in a single season to 23 years straight after their three-game sweep of the Tennessee Volunteers (25-18, 25-21, 25-17) Wednesday night. The win makes the Gator overall record 25-3 with two of their three loses coming at the hands of SEC leading Missouri.
Three Gators lead the way for Florida with double-digit kills: Alex Holston (13), Ziva Recek (12) and Chloe Mann (10). Holston was able to hit almost .700 on the night — which can be compared to a batting average in baseball. After the match, UF head coach Mary Wise said it was quite the bounce-back performance for Holston.
"I thought Alex showed terrific patience, especially in the "out of system" plays — that would be the balls that were not set by our setters. Recently, she's been a little anxious on that so she's hitting on the way down," Wise said. "Today she showed more patience and great range."
But, Holston wasn't the only player that impressed Wise Wednesday evening. Fellow Gators Taylor Unroe and Ziva Recek contributed to the team with the chemistry they have when transitioning from defense to offense.
"We just needed to get into another gear and I thought Taylor's (Unroe) passing and Ziva's offense… Ziva, this is the second match in a row where she's gone into another gear," Wise said.
Florida also played sound defense according to their head coach. Wise believes her Gators are a solid blocking team right now, and they show flashes of being great, but at times, they leave blocks on the floor. Wise said that is going to be what separates them when they start facing higher caliber teams in the near future (Florida recorded two blocks tonight).
Florida's final home game of the regular season is this Friday against LSU and the team will be honoring its seniors Taylor Brauneis and Chloe Mann.
When asked about the team's upcoming Senior Day, Wise said what these seniors leave is something special, and she hopes everyone can come out to honor the hard work these two have put in all these years.
"What we hope is that Gator fans give us a chance to recognize Taylor Brauneis… and how often do you have a Gainesville native, first team All-American, a player with all that Chloe (Mann) has done both academically and athletically," Wise said. " I hope the Gainesville folks will come out in droves."
That game is set start at 7:00 pm.
For audio on the quotes above, click here: