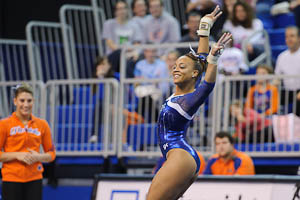 Courtesy of GatorZone
6, 124 fans packed the O' Dome to witness the No. 1 Florida gymnastics team win its Valentine's Day meet against No. 11 Arkansas Friday night. The Gators surpassed the Razorbacks posting a final score of 197.525 while the Gymbacks recorded a 196.025. This also marked the fourth consecutive week that a Gator scored a perfect 10.
Florida opened up with a solid vault rotation, with junior All-American Kytra Hunter leading the way nailing vault, posting a perfect score.  This is the first 10 on vault for Florida in 10 years.  The last perfect score on vault was done by Savannah Evans in 2004. Hunter joins Susan Hines and Evans as only the third Gator to earn a perfect score on vault.  Sophomore and SEC Gymnast of the Week for the fourth consecutive week Bridget Sloan was right behind her recording a near-perfect 9.95 contributing to the final score of 49.500 overall on vault. Hunter talks about how special it was to score her third perfect score this season.
"It was definitely exciting, I was speechless," Hunter said. "I've been really practicing to stick landings on vault. I'm glad I got to go out there and finally get my first stick of the season and get a 10.0, it's incredible because vault and floor are two of my favorite events."
Going into the uneven bars rotation, the Gators continued to score high as senior All-Americans Alaina Johnson and Mackenzie Caquatto posted a scores of 9.95, finishing almost perfect. Florida finished with a score of 49.525 while the Razorbacks scored a 48.950.
Moving onto the third rotation, the Gators didn't have their best performance on balance beam. After a solid lead off performance by junior Rachel Spicer, Hunter and Johnson struggled to keep  balance and fell off the beam, leading to serious deductions. Hunter posted a score of 9.40 while Johnson recorded a 9.55. After a troubled start, Sloan and Mackenzie Caquatto helped the team redeem themselves with solid performances posting scores of 9.90 and a 9.875. Gators head coach Rhonda Faehn spoke about the team's overall performance on beam.
"Beam was a little bit shaky; it was uncharacteristic, because that's one of our best events,"  Faehn said. "What I did like was that you could see that they were fighting through everything; we didn't end up counting a fall. It was sheer determination and will. That was really nice to see, because they're not going to be exceptionally perfect every time."
Once the Gators stepped on the floor for the final rotation, it was evident that they'd saved their best performance for last. In the floor exercise, Sloan may not have gotten another perfect 10 on floor, but finished with a near perfect 9.975 and a standing ovation from fans. Sloan's sassy routine drew the crowd in with every nailed flip and every precise movement.
"As a team, I really thought that we pulled it together," Sloan said.  "As a team, we didn't have our greatest meet ever, but we were still able to come back. We have this way of always coming back for floor; we absolutely love floor, we love performing it, but it's always one of those events that we can kick it in gear and get those great scores."
The sophomore and defending NCAA All-Around champion took the balance beam, floor exercise, and All-Around titles, helping her equal her career-best total of 39.75 for the second time in 2014.  Sloan's three event wins Friday night up her total to 39-one away from becoming the 13th in the program's history to post 40 career titles.
"I definitely didn't have a perfect meet by any means, but at the same time it was still a great meet; it's that half-way point," Sloan said. "I always say it's like we're in limbo. We're a little tired here and there, but we're still pushing through the rough days and the tired days. I think from here on out it's going to just be an uphill climb for post-season."
Up next, the Gators host No. 3 LSU for the Gators Link to Pink meet next Friday; the meet is part of a Southeastern Conference initiative to help raise breast cancer awareness.
For audio on the quotes above, click here:
Hunter on perfect score on vault
Faehn on team's performance on beam
Sloan on team's performace on floor