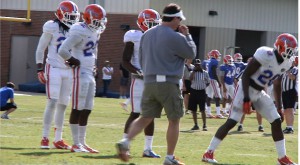 The Florida football team is in full swing preparing for the upcoming 2014 season.
Florida football head coach Will Muschamp talked after practice Tuesday to discuss the Gator's progress during spring practice. A hot topic was Saturday's scrimmage and the development of the new uptempo offense under offensive coordinator Kurt Roper. Muschamp said Roper brings confidence to the offense which has been missing for quite some time.
"I think our attitude is much better," Muschamp said. "It's much more positive, especially on the offensive side of the ball. "I think our guys have a lot of confidence in what they're doing. They have a belief and trust in what we're doing. We lost that late in the year."
Florida now has 12 practices under their belt and Muschamp said there has been no change behind starting quarterback Jeff Driskel. Sophomore Skyler Mornhinweg and freshman Will Grier continue to compete for the backup role at quarterback.
"Both guys have done some nice things," Muschamp said. "Will made a really nice adjustment off a corner pressure and hotted the ball to Andre Debose in the red zone (during Saturday's scrimmage). It was a really nice throw. Skyler also does some nice things; both of those guys will continue to get reps."
Muschamp also praised the effort the team is making and said a lot of guys have embraced the leadership role.
"I think that you know when your best players are good guys, you know that they understand how to compete,'' Muschamp said. "You look at Vernon Hargreaves, that's a guy that goes out and competes every day. Dante Fowler is playing at a different level. Chaz Green is competing extremely hard. Max Garcia, Jeff Driskel, Quinton Dunbar, all  guys that I see that are maybe older guys in the program but are going through spring ball hungry."
"They're competing; they're playing fast, playing physical," Muschamp said.  "When that makes those other guys, those younger guys, those fringe guys to come and compete like they do, when your best players are competitive guys that go out there and compete all the time, that's a good thing."
All eyes are on Florida and anticipation is high among fans to see what the new Gators will look like.  Muschamp said fans are going to be pleased with what they see in the Swamp at the Orange and Blue Debut game Saturday.
"I think when they see our football team, they're going to see, offensively where we are," Muschamp said. "I think they'll see a unit on defense playing well. They're going to see a good-looking football team. We're going to have a good team next year. We just need to progress. The summer months are going to be critical for us to continue to take advantage of those opportunities to take the next step offensively and defensively."
Saturday's Orange and Blue Debut game will kick off at 1:30 PM at Ben Hill Griffin Stadium.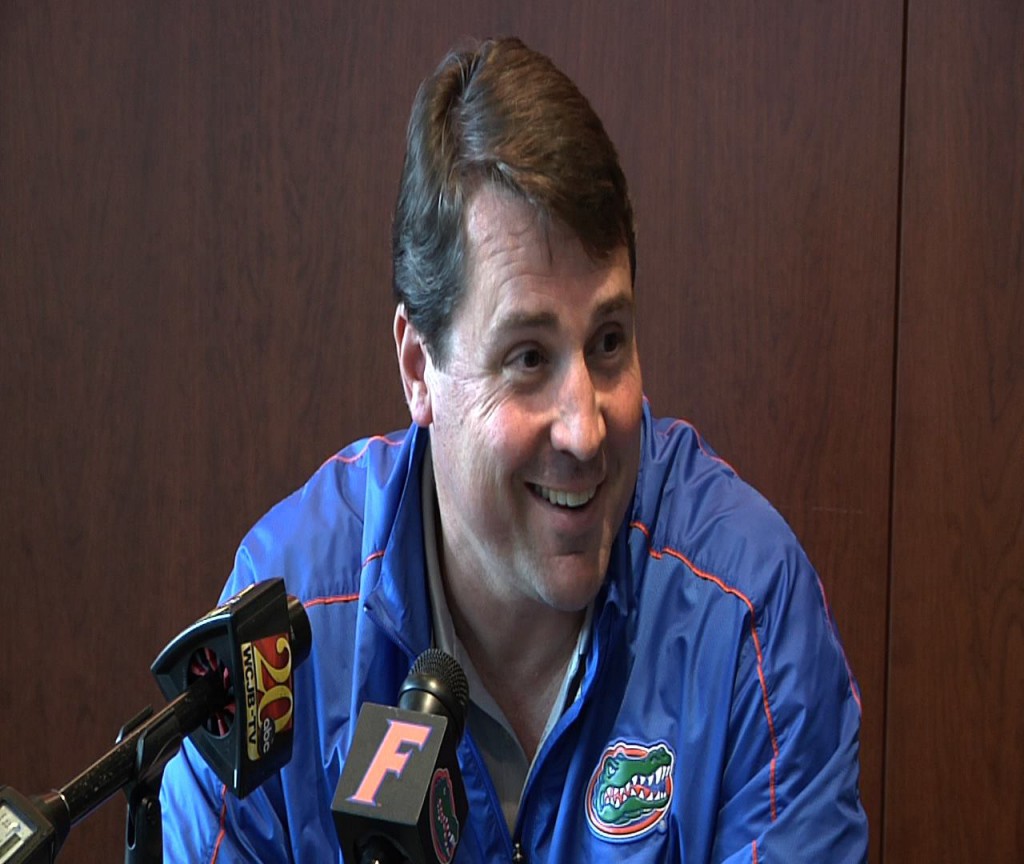 For audio on the above quotes, click below:
Muschamp on Mornhinweg and Grier
Muschamp on Orange and Blue Debut Game
Muschamp on players competing hard