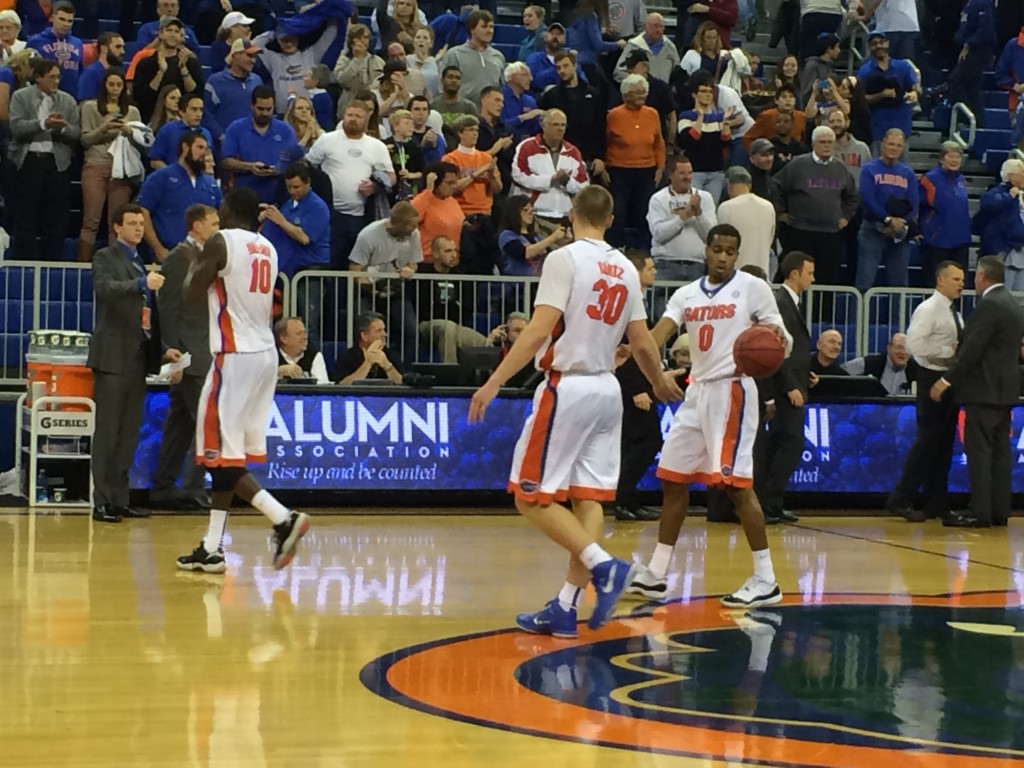 The Florida men's basketball team extended its win streak to three games on Thursday night defeating the Auburn Tigers by a final score of 75-55. With this win the Gators improved their winning streak against the SEC to a whopping 24 games and they now sit tied atop the 14-team league with the Kentucky Wildcats.
The Gators (10-6, 3-0) put together yet another dominant performance in a game they never trailed. Florida jumped all over the Tigers early going up 26-8 within the first 11 minutes and they never looked back.
Billy Donovan's club shot a solid 50 percent in the first half led by sophomore point guard Kasey Hill who went into the locker room with 8 points, shooting 4-of-6 from the field. Despite the lack of a true post player the Gators held a 12 point advantage inside the paint and totaled four more rebounds.
The Tigers (9-7, 1-2) entered this match up on quite the hot streak having won six of their last seven but on Thursday night they were simply outmatched and never found their rhythm. Bruce Pearl's squad shot an abysmal 22 percent from the field in the first half, shooting just 1-of-7 from beyond the arc. Auburn's leading scorer at halftime had just 6 points and the team went into the locker room with six turnovers and just four assists.
The Gators took a 17 point lead into the locker room and that lead would be consistent throughout the rest of the contest.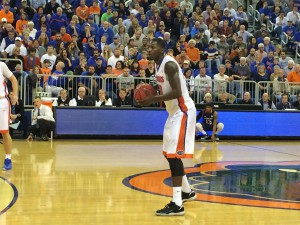 The Gators saw yet another big performance out of redshirt junior Dorian Finney-Smith who finished with a game high 14 points despite shooting 4-of-10 from the field. Doe-Doe was non-existent in the first half thanks to foul trouble but did come alive in the second scoring 12 of his 14, and Donovan said afterwards it didn't take long for him to get going.
"I think he's become a little more efficient, he had a couple good tip-ins where he ran the floor, and that was four quick points. He made a couple free throws, knocked down a couple threes and before you know it, with his ability he can manufacture points in a lot of different ways."
As it would surprise probably no one, the Gators found success from all of their guards Thursday with three of their four finishing in double figures. Hill finished with 12, redshirt junior Eli Carter also finished with 12 and junior Michael Frazier II finished with 11. Even freshman point guard Chris Chiozza found success on the night with nine and Donovan noted afterwards that in order for this team to succeed, not only will his guards have to play well, but they'll also need to find ways to get the ball inside.
"I think having a better idea of what we're trying to do offensively, you know, we don't have a low post game. We don't have a post-up game and you have to have a balance. But you've got to find and do creative things to try and get the ball to the basket."
On the other side of the coin, it was a tough night for Auburn's best players.
KT Harrell finished with just eight points and big man Cinmeon Bowers finished as the team's only player in double figures, but shot a poor 4-of-11 from the field. Despite shooting one percent better than the Gators in the second half the closest Auburn could get was 10 points with just over five minutes to go. The Tigers finished the night with 13 turnovers compared to Florida's nine and were outperformed in seemingly every category.
In front of a crowd over 10,000 strong, the Gators put together one of their best performances of the season and Finney-Smith said it was great to succeed in all facets of the game.
"It was a great team win. We did a good job on defense. They [Auburn] are a great offensive team, but we just played Gator basketball. Everybody is just playing well together, passing and moving the ball. We are a hard team to beat with four or five guys in double figures."
Up next the Gators will take their undefeated SEC record on the road as they travel to Athens to face the Georgia Bulldogs on Saturday.
For audio of the quotes above, click on the links below:
Billy Donovan talks about the team playing strong in tough situations
Billy Donovan talks about his team offensively and what they're forced to do
Billy Donovan talks about Doe-Doe's ability to get the ball in the basket
Billy Donovan talks about his guys going on the road on short rest
Kasey Hill talks about having more depth
Eli Carter talks about the team's ability to keep the momentum on their side